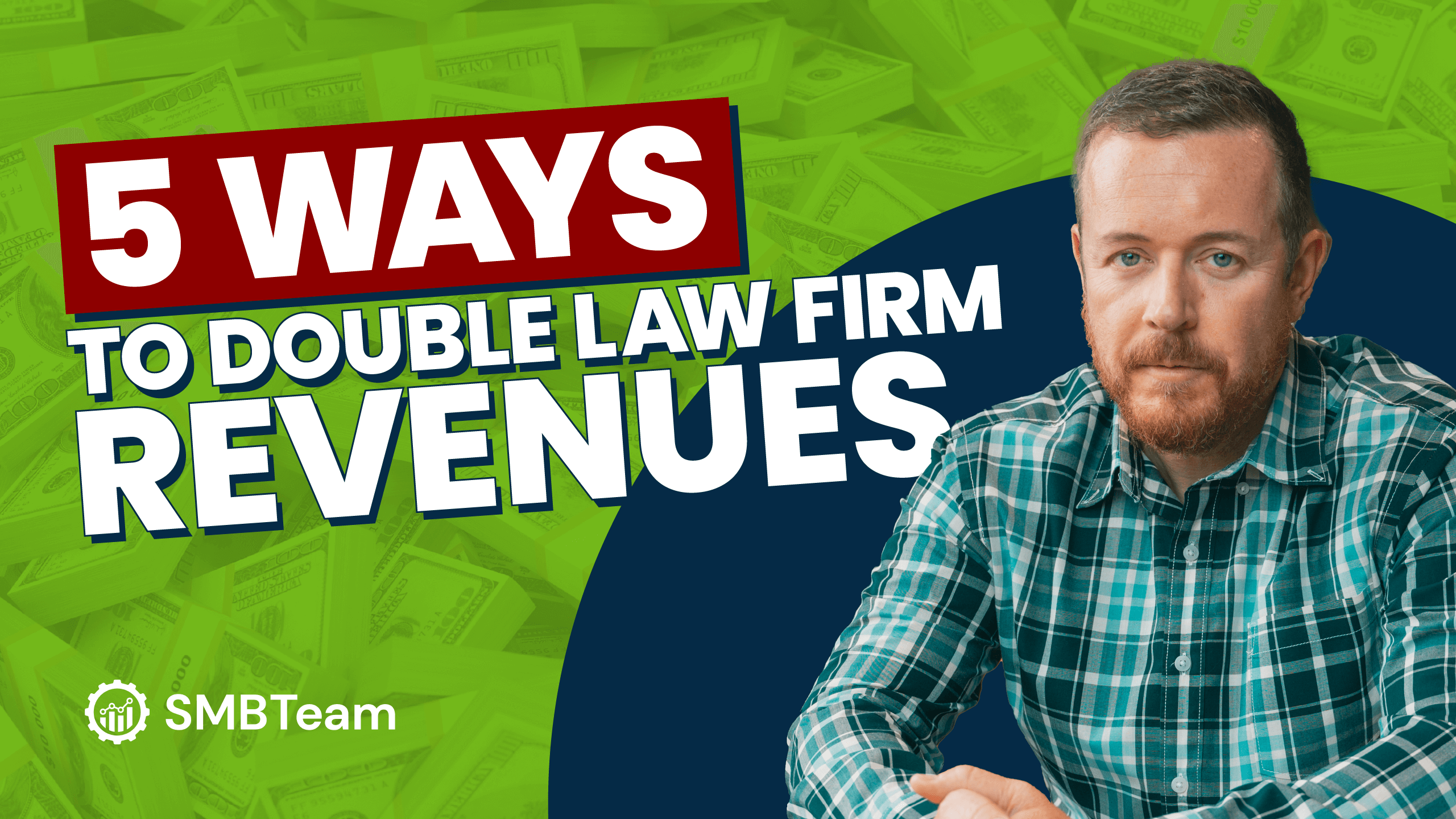 Proven strategies to boost your law firm's revenues by attracting and converting more potential clients
Are you looking to increase your law firm's revenue? In this blog post, we will share five effective strategies that have helped many law firms double their revenue. By implementing these strategies, you can grow your revenues.
Over the past 12 months, we have helped over 69 law firms double their revenues. We taught and helped them put in place these exact strategies.
Follow-up: Create Opportunities and Build Trust with Potential Clients
You don't get married on the first date, and neither do your leads. Implementing a follow-up system is one of the most important parts of growing your law firm's revenue. Many potential clients are not ready to buy immediately. Think about yourself; how often are you ready to make a big decision at the first meeting? If you only measure your marketing efforts on if someone signs up immediately, it's a losing game.
By following up with each of your leads, you can create more opportunities for them to engage with your firm. We call these touchpoints. According to Truelist.com, it takes eight touchpoints for someone buys.
Whether they visit your website, call your law practice, or attend a consultation… Each interaction presents a chance to build trust. This helps you further establish a relationship between them and your law firm.
Implementing a follow-up system can increase your chances of converting leads into clients. Follow-up systems are a huge part of any good law firm's marketing strategy. This can be as simple as tracking website visitors, using automated messages, or implementing an email and text message marketing campaign.
If you are serious about your law firm's growth, then it's crucial that you install a follow-up system for every lead. Your marketing efforts will go so much further.
Make an Irresistible Offer: Stand Out from Your Other Law Firm Competitors
Most lawyers are seen as commodities. To differentiate yourself from other law firms and attract potential clients, it's crucial to make a compelling offer. If you do a quick Google search or ask around, I'm sure that everyone you know knows a lawyer.
This makes it challenging for potential clients to distinguish one law firm from another. To stand out, try creating an offer that is so valuable and beneficial to clients that they would feel foolish to decline. When your offer is compelling, you can significantly increase your chances of securing their business.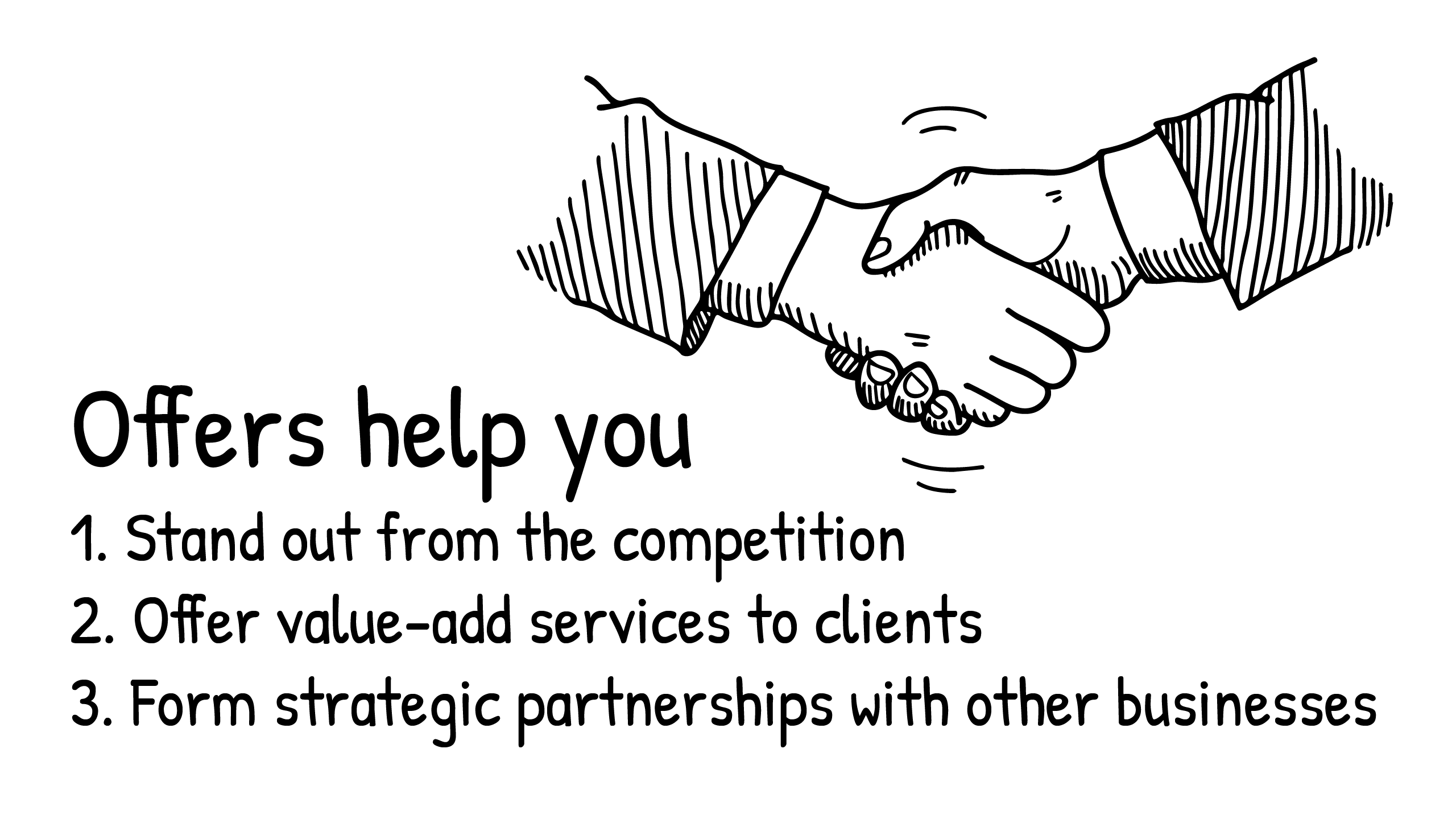 For example, as a part of your law firm marketing strategy, make it a point to form partnerships with other businesses in your area. If you are a personal injury lawyer, network with other chiropractors in your area. This is especially important for a small law firm. The more benefits you can combine into your offer, the more valuable you are seen. Many law firms only offer things like free consultation. But think about how adding in a $250 voucher to a chiropractor or another type of offer can benefit your law firm.
Improve Your Sales Skills: Selling as Serving in The Legal Industry
Do you want leads, or do you want to pay clients? I bet you're thinking, "paying clients" right now. While many lawyers may resist the idea of being salespeople, honing your sales skills is essential for growing your law firm's revenue. Selling is not a negative action but a way to better serve your clients.
If you truly believe in what you and your law firm do, then it's crucial to look at selling as your duty. Most law firms HATE the word sales. They perceive it as "dirty" or "unethical". But the truth is, the law firms that succeed and grow are the ones who know how to sell. Selling is crucial to massive law firm growth.
Sales are just effective and persuasive communication. In most cases, it comes down to communicating the value and benefits of your legal services. Remember, keep your potential clients desires at the core of your communication. Address their concerns quickly and directly. By doing so, they will soon begin to see how your legal services will transform their lives. In turn, this grows the revenue of your law firm.
Form Strategic Partnerships: Expand Your Law Firm's Reach into Multiple Marketing Channels 
Collaboration is a huge part of growing law firm revenues. Your duty as a law firm owner is NOT just about practicing law. It's about finding new ways to attract clients. This can be done by forming Strategic Partnerships. 
Every good marketing strategy incorporates strategic partnerships. Marketing isn't only about local SEO, crafting the perfect digital marketing campaign, or blasting social media posts out there. 
Like every brick-and-mortar store, law firms rely on strategic partnerships. These are relationships with businesses that serve the same target audience as you. Creating alliances with them can contribute to your law firm's revenue growth. In turn, this attracts more legal clients to your firm. 
Think about collaborating with complementary service businesses, such as therapists or financial advisors. If you're a divorce lawyer, create a strategic partnership with a family counselor. Offer to incorporate this into your major offer OR make an arrangement to share leads.
Not only does this give your legal clients a better client experience, but it also helps you generate more leads and grow revenues. This taps into a part of your marketing plan that most law firms neglect.
Generate More Online Reviews: Boost Credibility and Visibility
Legal marketing is highly saturated marketing. And the winnings go to the best marketing campaigns. One of the quickest ways that you can boost your law firm's SEO is by generating more reviews on Google.
The more reviews that you have on Google, the higher your law firm shows in the search results. This allows you to generate potential clients from the organic maps section of Google.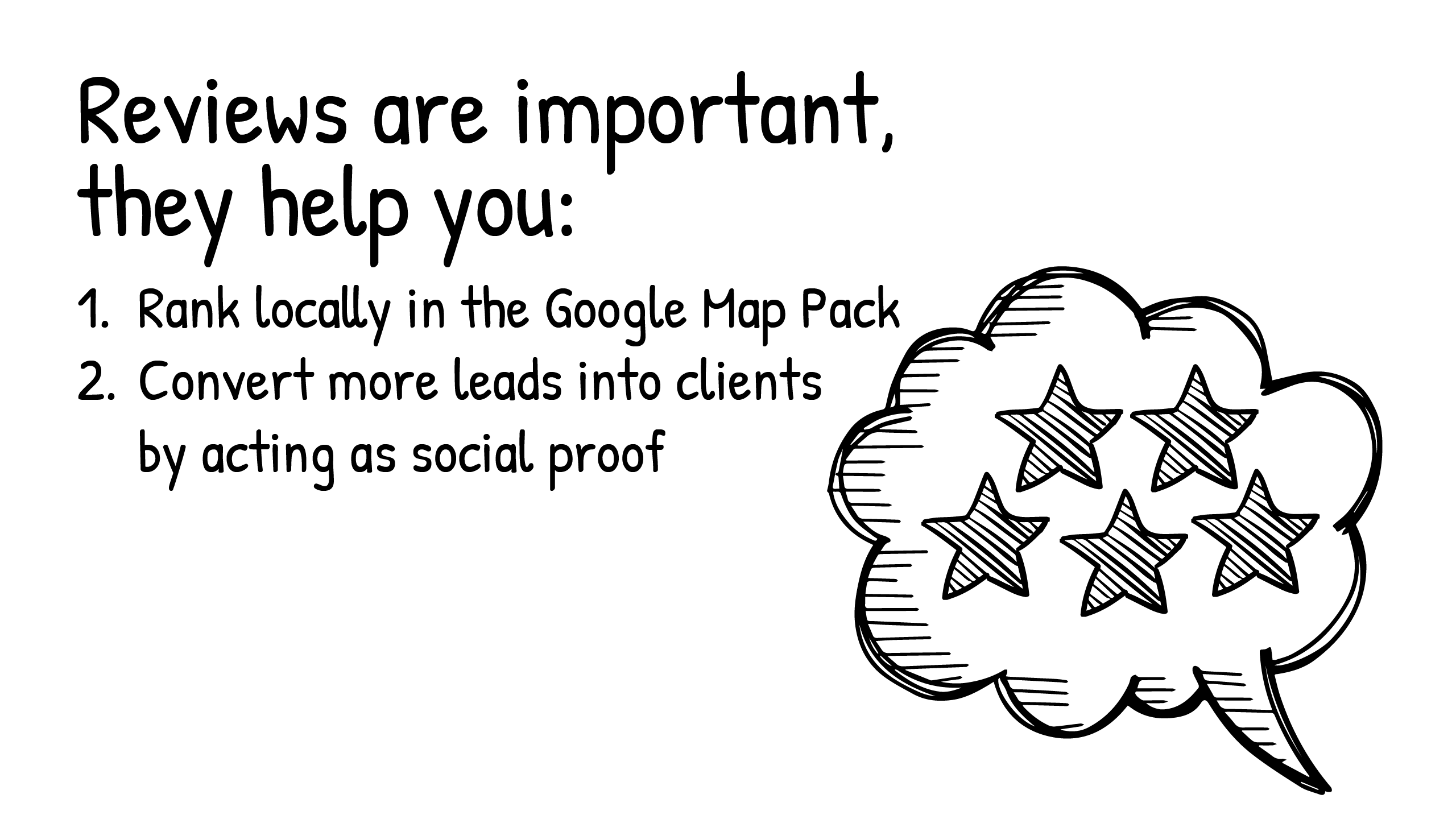 Additionally, these online reviews act as social proof for your law firm. Collecting reviews should be at the forefront of your growth strategy as a law firm. You can ask current, past, or prospective clients to leave you a review. 
Research has shown that once a law firm reaches 200 reviews on Google, its revenue increases by an average of 44%. Encourage satisfied clients to leave reviews by simplifying the process for them. Here's an article we wrote on the exact 5 questions to ask clients to get more reviews.