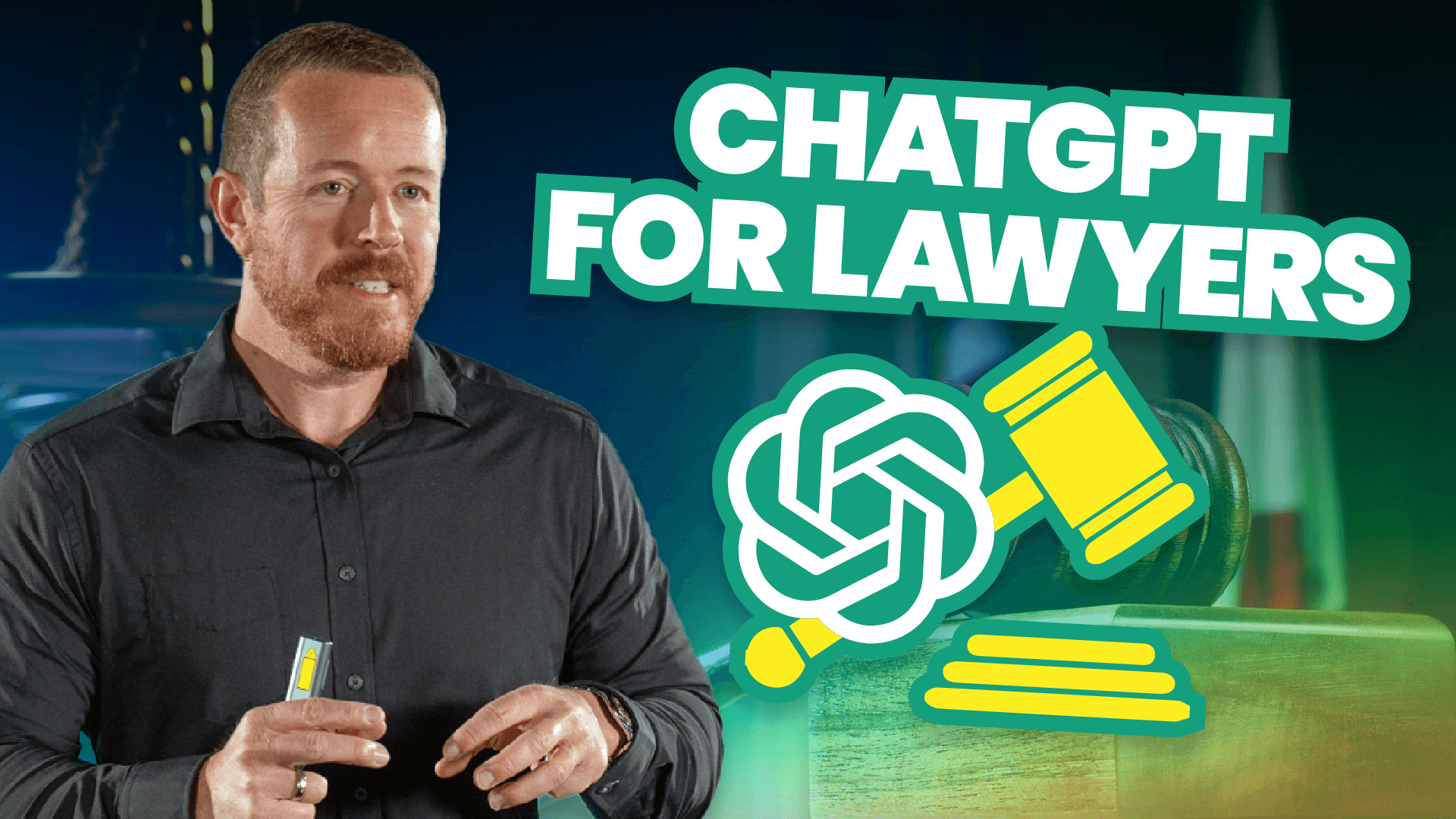 Ever feel like you can't keep up with the day-to-day work needed to keep your firm running? Do you spend hours and hours on time-consuming tasks that aren't pushing your business forward?
That's a sign you should start using AI in your law firm…yesterday.
AI is revolutionizing how lawyers and law firms work. How? By making tedious and time-consuming tasks about ten times easier.
Work smarter by harnessing artificial intelligence
Legal professionals have a lot to think about during the workday, especially lawyers who run their own firms. The phrase "work smarter, not harder" might be a cliche, but it's a fantastic mantra to live by.
Artificial intelligence (AI) is the ultimate tool for working smarter, whether you want to improve your market research, write a new ebook for potential customers, or prepare for a deposition.
AI will become the legal research and marketing assistant of your dreams…if you embrace it and learn how to use it.
New AI Technology Like ChatGPT is More Powerful Than Ever…
Everyone's heard of ChatGPT, which has changed the artificial intelligence game forever by offering a powerful, free tool that anyone can use for both personal and commercial purposes. ChatGPT brought AI technology mainstream and enabled anyone to access its power.
Getting started with ChatGPT
ChatGPT is the best way to get started if you want to leverage AI for lawyers. For example, you could prompt the chatbot with something like: "Give me five low-competition keywords relating to family law firms," and instantly get some ideas that could work for your next SEO blog post.
Then, you could refine your prompt and ask for more specific keywords or additional options in the same conversation. That way, you can guide the chatbot through a back-and-forth "conversation" to show it exactly what you want.
Building your future A.I. and ChatGPT toolbox
There are also a lot of paid tools out there for AI, machine learning, and automation that offer more features and integration for automation. Once you've gotten to practice with ChatGPT, you might consider a different and even more powerful AI solution for your law firm's needs.
Research Ideal Legal Consumers
Marketing is all about psychology and emotion.
To get more legal cases in your practice, it's important to fully understand the legal problems, wants and needs of your ideal customers. Too many lawyers don't dial in their marketing messages on a specific type of person, which leads to fewer leads and fewer clients.
Need to create an ideal customer "avatar?" Use ChatGPT to quickly get an in-depth picture of your ideal future client, pulling data on everything from their annual income to their hobbies. That relevant information can be precious when attracting leads that will turn into cases.
Tailored A.I. & ChatGPT Lead Follow-up for Your Law Firm
Follow-up is one of THE most important activities in client acquisitions. If your law firm isn't following up with potential clients, you're leaving stacks of money on the table…
The problem? Follow-up takes consistency and personalization. Your law firm needs systems to streamline the process and get more clients.
AI can make following up a breeze by drafting follow-up messages for different kinds of leads you can send via text or email. Once you've got a template you're happy with for each type of lead, you can use AI technology again to automate the follow-up systems for your law practice.
Create Legal Industry Marketing Content
Content marketing is a fantastic long-term strategy for lawyers. However, consistently producing content on top of your other tasks can be challenging.
Because it's time-consuming, many law firms don't invest in content marketing. That means they aren't positioning themselves as an authority. They're missing out on TONS of high-quality leads.
With AI prompts, you can draft and produce high-quality content every week, from blog posts to lead magnets, in a fraction of the time.
Find Out What Your Clients Are Thinking!
One of the best ways to use AI for content marketing in the legal industry is to find out what people really want to know.
Instead of guessing what kind of legal assistance your potential clients need, you can ask ChatGPT to do that research for you and develop endless content topics.
This is a great way to start providing legal help with YouTube content. You can find out what topics interest your ideal client using AI tools. You can even get ideas for video titles and captions, making it quick and easy to answer questions and provide value as a lawyer.
Faster Legal Research with Artificial Intelligence
Doing legal research manually, such as performing litigation analysis, takes a lot of effort from legal professionals.
If a lawyer is looking into certain statutes or a specific clause, it can take a long time to sift through that information. Although many documents are available online, it can feel like wading through endless stacks of paper.
AI tools can analyze information in seconds and provide a starting point for legal research. This cuts down significantly on the time involved in the process, which frees the lawyer up to work on case law strategies and other important tasks.
Is Using ChatGPT for Lawyers Ethical?
AI technology is perfect for helping you supercharge your marketing efforts and providing a starting point for legal research, e-discovery, rough drafts for documents like contracts, and streamlining casework.
But is it ethical for a lawyer to use AI? Are concerns about data privacy, intellectual property violations, and other issues legitimate? Are there risks to using AI?
AI Technology is Still in a Legal Gray Area
Right now, laws regarding AI are pretty much nonexistent. However, it's important for lawyers who want to use AI to follow all of the regulations within the legal industry and for marketing content as a whole.
It's easy to use AI responsibly if you remind yourself that it's there to assist you–not take over completely.
Remember: AI for lawyers isn't foolproof. You can't just give ChatGPT a prompt for a blog post and immediately publish it. Ensuring that everything is factual and original is critical to ethically using AI in legal work.
You are the source of the legal information you provide in your practice areas. Use common sense and be responsible for the content you put out. As long as you're using AI technology to boost your productivity, you can generally feel confident that you're using AI ethically.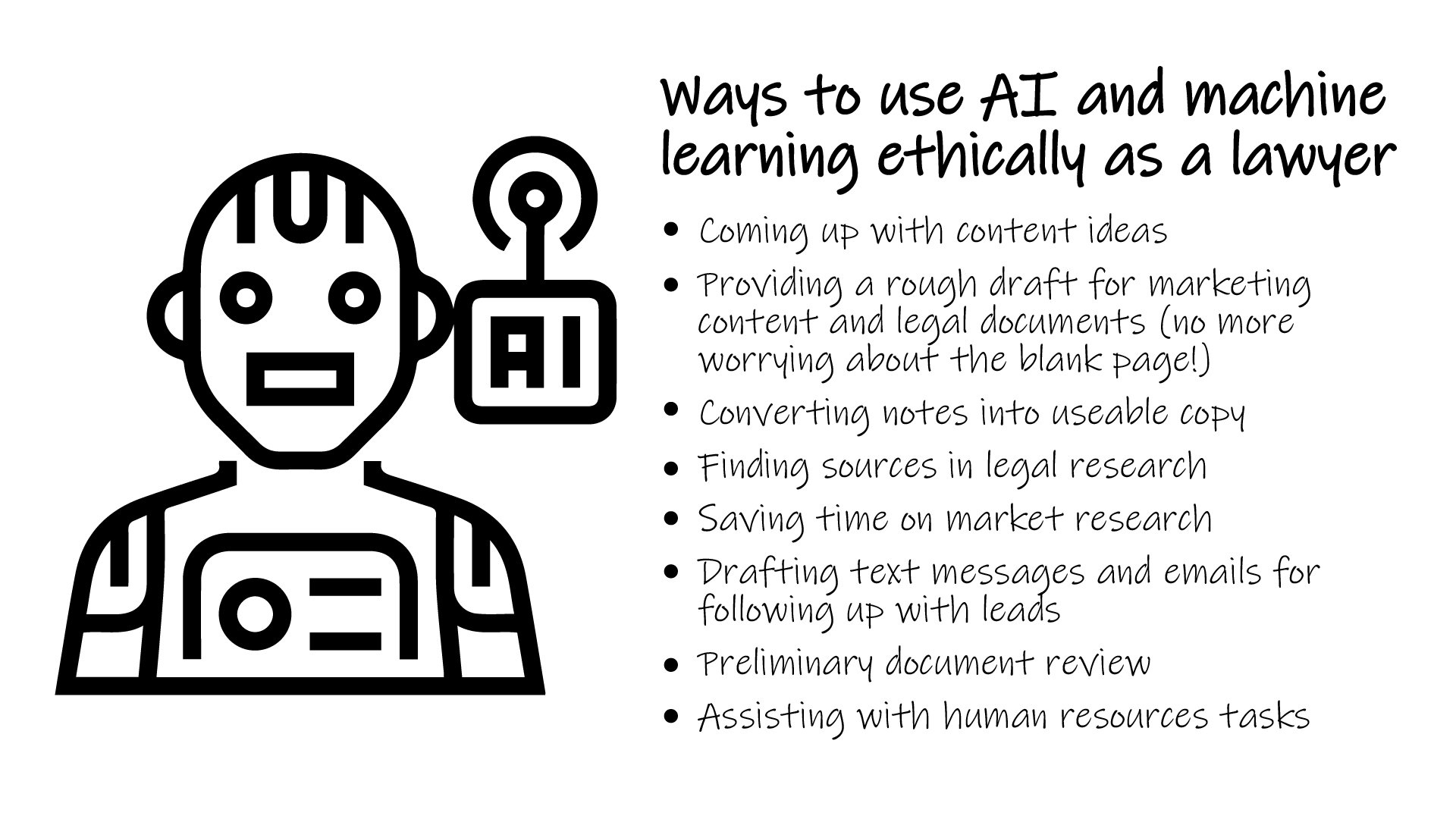 Ways to use AI and machine learning ethically as a lawyer
Coming up with content ideas

Providing a rough draft for marketing content and legal documents (no more worrying about the blank page!)

Converting notes into useable copy

Finding sources in legal research

Saving time on market research

Drafting text messages and emails for following up with leads

Preliminary document review

Assisting with human resources tasks
Will AI Replace Lawyers?
Technology always eliminates jobs as it improves. Artificial intelligence is no exception. People across industries are worried about the impact of AI on their livelihoods.
So, will artificial intelligence replace lawyers?
As an attorney, do you need to worry that you'll be automated out of a job?
Well, no…at least for a while.
Even with the help of staff within the practice, the amount of work as a lawyer can be overwhelming, and a lot of it doesn't involve meaningful casework.
Ultimately, the benefits of AI for lawyers make everyday work easier. Using these tools allows you to save time and focus on bigger strategy ideas, case law, providing legal help to your clients, and answering more questions.
Don't Get Left Behind…AI For Lawyers is Changing the Industry
If you aren't interested in using AI in the legal profession, there's some bad news: you WILL get left behind. AI law might eventually restrict some uses for these tools, but they aren't going anywhere.
The legal industry is slow to change, but many law firms already recognize the power of using AI and machine learning to streamline their systems and cut out unnecessary, time-consuming work for attorneys.
Why start now?
A major benefit of learning to use these powerful technologies right now is that you'll be ahead of other law firms and lawyers. Many still haven't realized just how much AI will revolutionize the legal profession. You'll gain a competitive advantage while reducing the time spent on tedious tasks.
Do the work once, and use your templates over and over
It can take some patience and tinkering with your AI prompts to fully leverage ChatGPT and other artificial intelligence tools. However, once you have those prompts and templates, you can continually reuse them in your law practice systems.
First time using an AI solution like ChatGPT? Download our 160+ ChatGPT prompts to help you get started!