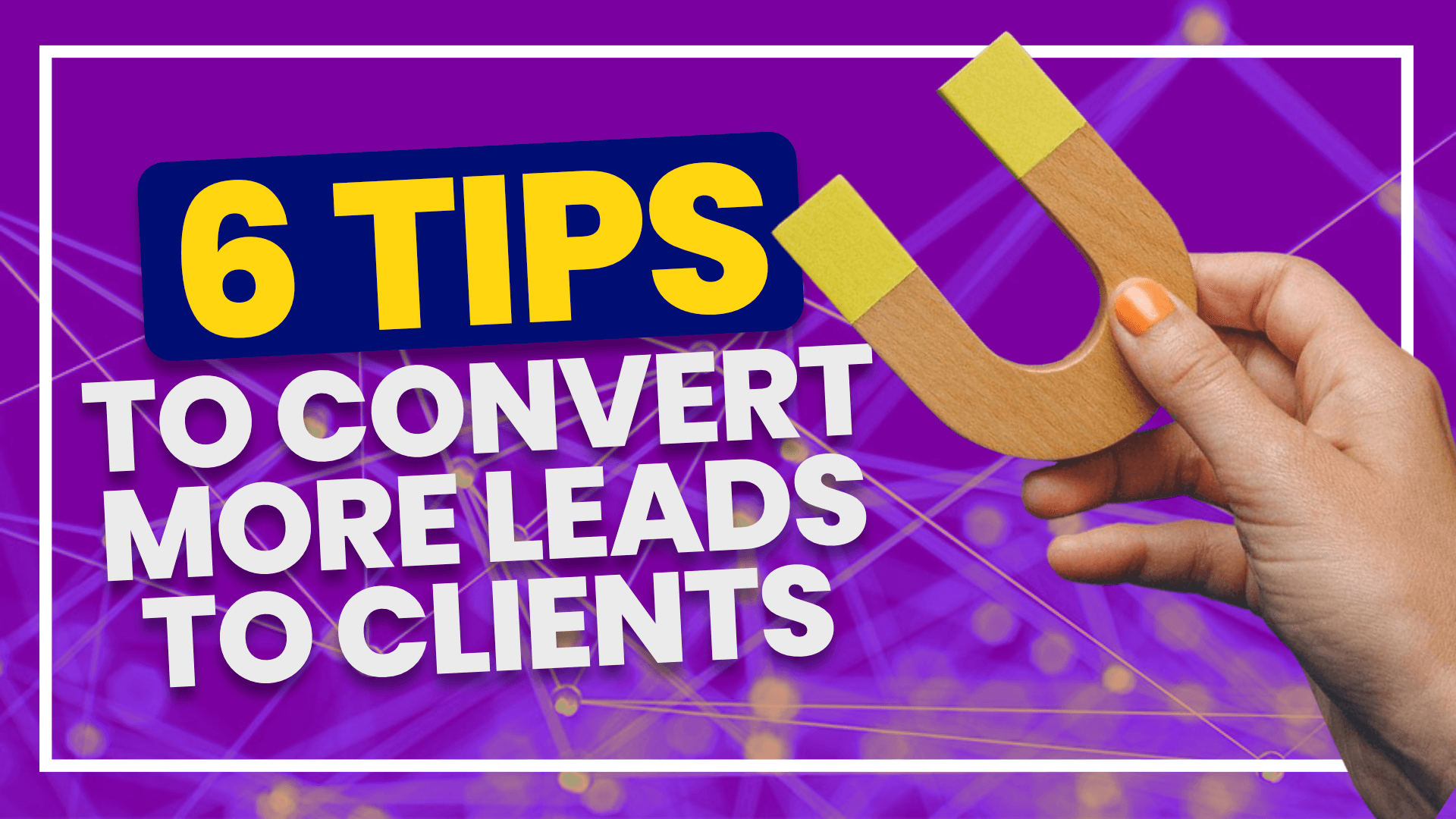 6 Tips to Convert More Leads Into Clients Through An Effective Client Intake Process
When someone walks into your law firm or calls your office, all they want is solutions to their legal problems. Their goal is to decide if your law firm can provide those solutions.
Everything you do on the client intake journey will either reassure them that they've made the right choice or shake their confidence in you. That's why your law firm intake process matters so much–it helps to set new clients up for success while giving them the confidence and reassurance they need to move forward.
Why is the Intake Process Important?
Most law firms don't have a great sales process in place. When lawyers are too focused on casework, they can lose sight of the fact that a prospective client is considering lots of different factors in the decision-making process.
Optimizing the client intake process can make a huge, positive difference in how many leads you convert into cases, and how many 5-star reviews you get after cases conclude. That has a ripple effect, helping you bring in even more new clients from different sources, including word-of-mouth referrals and organic searches.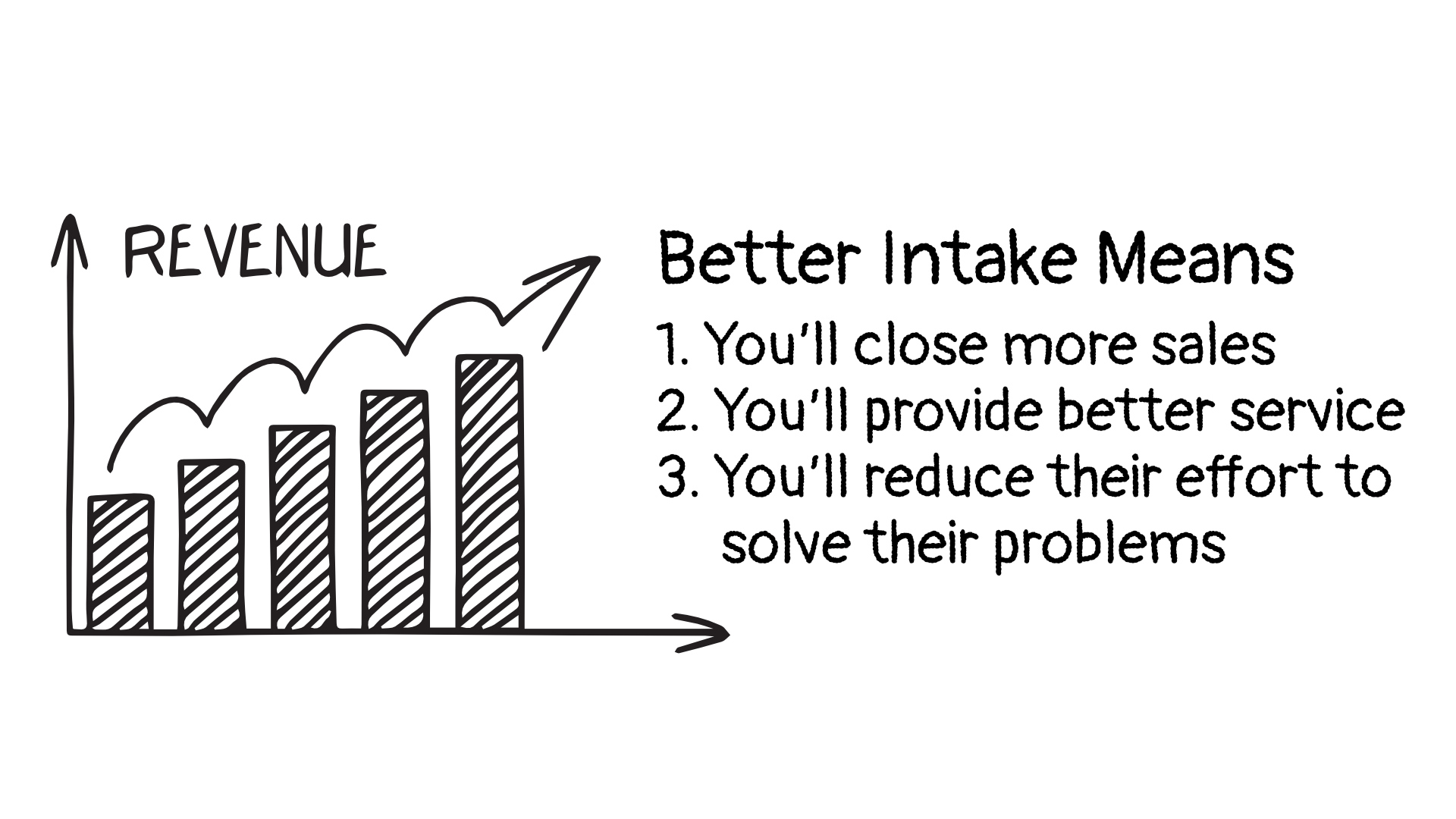 In an increasingly competitive market, your firm needs to stand out for the right reasons.
A flawless intake system will not only help you close more sales, but it will also provide potential clients with an elevated customer service experience and reduce the effort needed to solve their legal problems. Your intake process represents the only first impression you'll get, so make the most of it!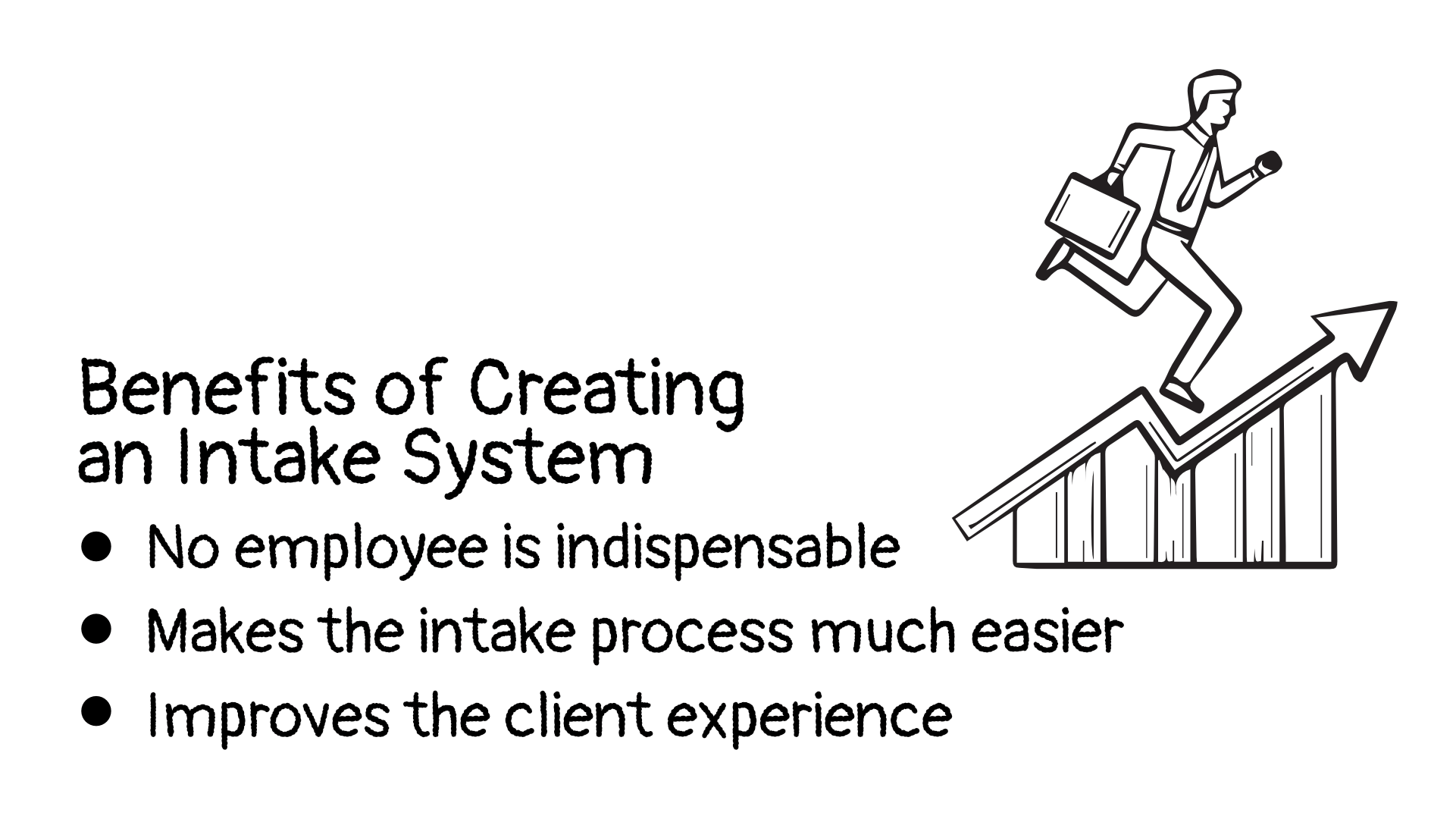 What Are the Steps of an Effective Client Intake Process?
The client intake process begins even before someone becomes a new client. The ideal legal intake process is designed to convert leads into new clients and onboard them so your lawyers can focus on what they do best: casework.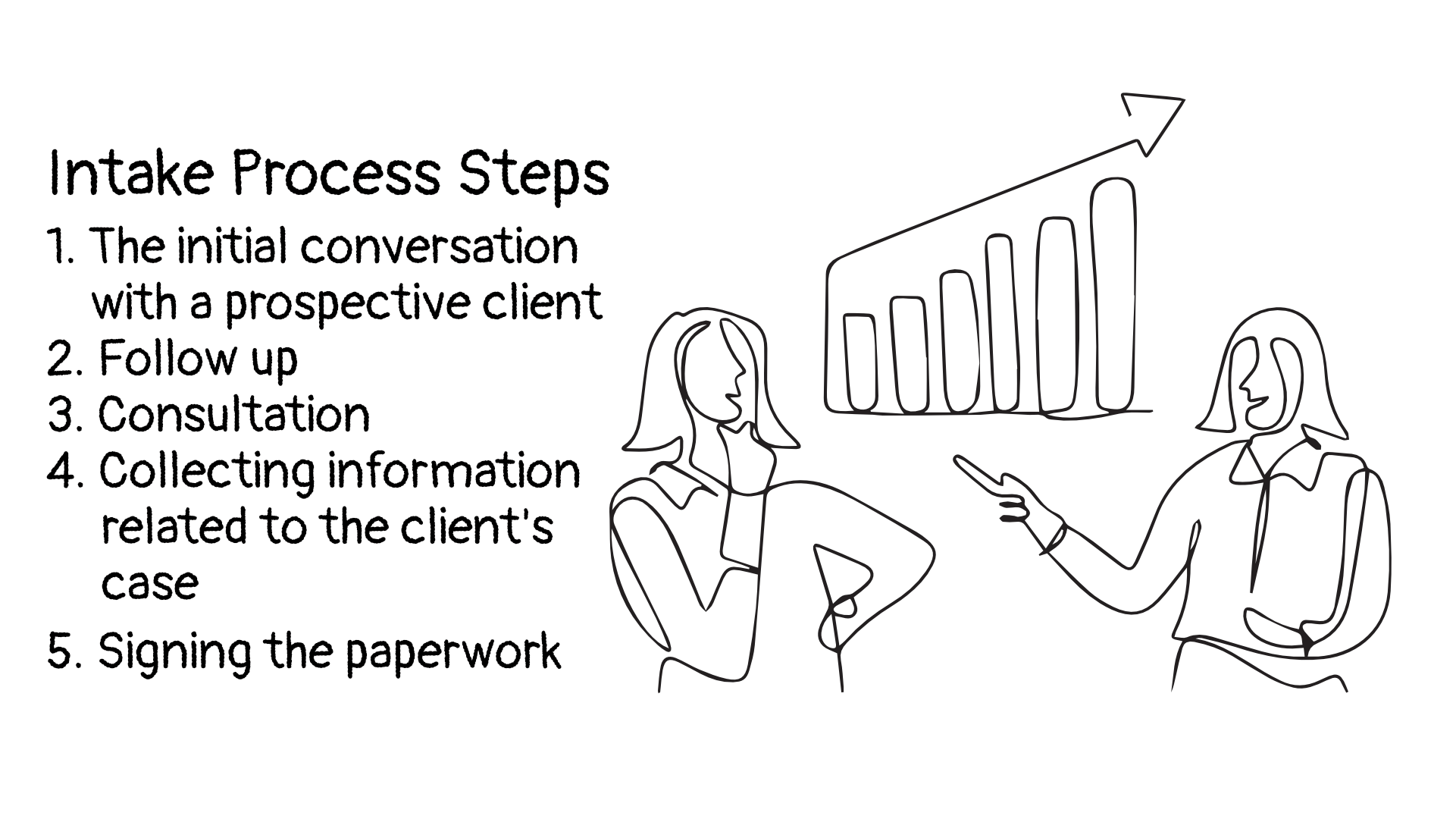 Intake process steps
The initial conversation with a prospective client

Followup

Consultation

Collecting information related to the client's case

Signing the paperwork
That's a lot of steps before a potential client is actually working with you. Making the entire process as simple and painless as possible will result in more cases and more revenue.
Tips for Improving Your Client Intake Process
If you're reading this, then you probably know your intake process could be better. If you're spending a lot of money on marketing and advertising, then you'll want to make the most of your leads.
Getting leads is only the first step in converting them! There's a lot that can happen between that initial call or email and signing the papers. Improving your client intake and lead management process will result in fewer lost leads and a higher ROI overall for your marketing activities.
Hire a Dedicated Intake Professional
Your administrative staff and paralegals already have enough on their to-do lists for each workday. The job of an office administrator is to keep the office running. A paralegal should be assisting with legal tasks relating to cases, not following up with leads.
Don't pile even more important tasks onto your existing employees. You'll risk staff burnout and reduce their overall productivity.
Plus, there's no guarantee that your staff will be talented salespeople. After all, their focus is administrative tasks and legal work.
Hiring someone specifically for your firm's client intake process will free up the rest of your staff so they can focus on their most important responsibilities. You'll also get more cases overall because your intake specialist will be focused on following up with leads.
Since improving your law firm's sales process will be the focus of the intake specialist's job, converting leads will be their priority. That will help you get new cases more consistently.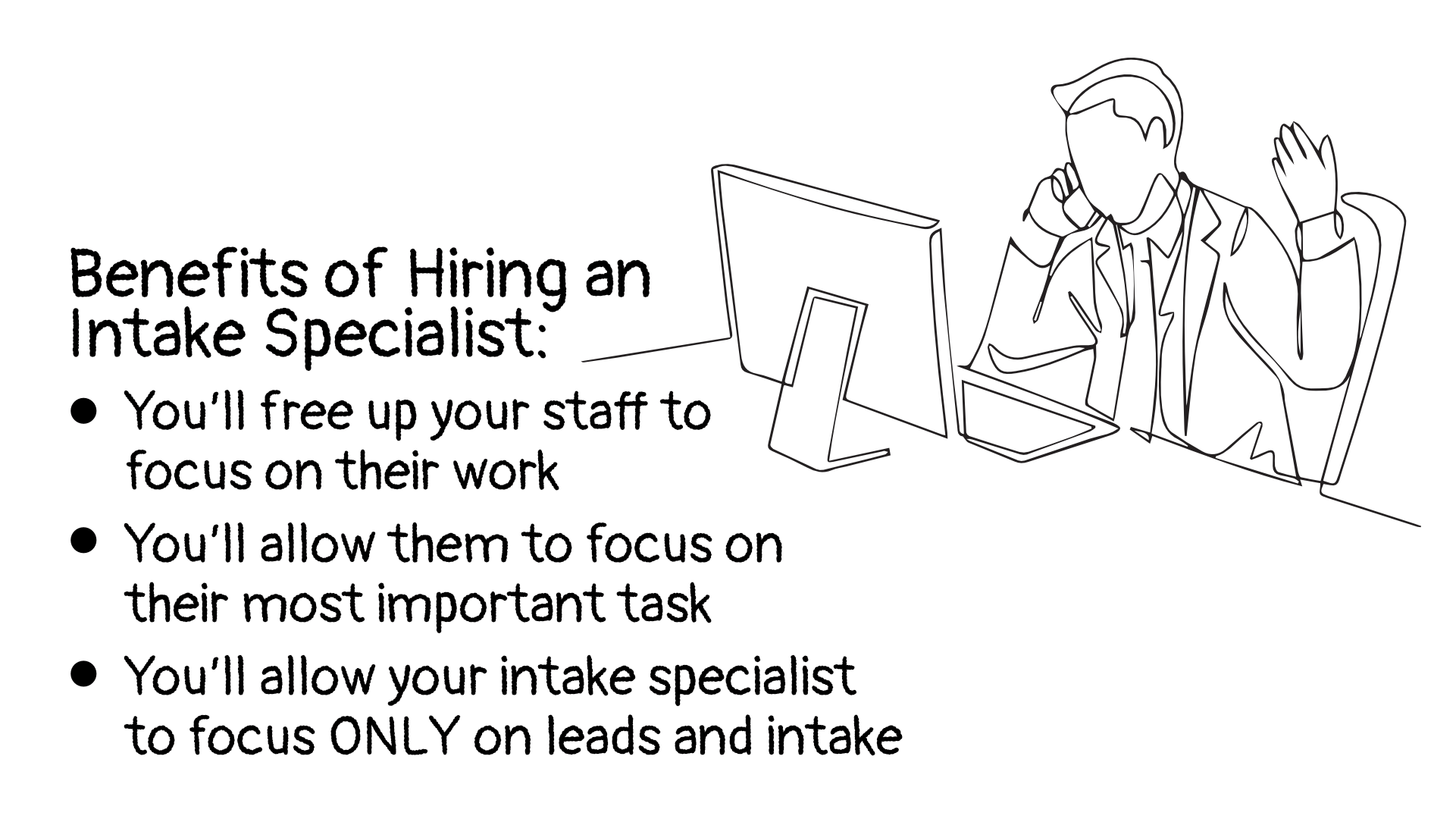 Will you need a Full intake TEAM?
Eventually, your intake process specialist should help generate enough new revenue that you can justify hiring a full intake team. Until then, having at least one person dedicated to client intake is necessary for sustained growth.
Worried about adding more people into the mix? You don't have to hire someone to physically work in the office. By using call routing, a web form for initial contact details, and automation tools, you can have someone working remotely to help with client onboarding.
Follow Up, Follow Up, Follow Up
We all have busy lives. Clients do, too. Even if they need legal help, they could easily forget about your law firm if you don't follow up with them consistently.
After the initial phone call or email, your staff needs to be responsible for keeping the conversation going with prospective clients. Have them ask leads when would be a good time for your firm to call, and ensure they use multiple communication methods.
Very few people enjoy following up with leads. It can feel like a waste of time. It can feel like you're bugging them.
But here's the truth.
Following up is THE MOST important step of the sales and intake process. If you give up on a lead too soon and stop following up, you're giving up on potential revenue from that client.
Don't give up on leads too quickly!
You won't convert every lead. That's just not realistic. But far too many law firm owners don't try hard enough. Their expectations for follow-up are too low, resulting in lost revenue.
If you're worried about bothering a potential client, think about it this way. You're offering them a chance to solve their problems.
You're helping them reach their goals.
You're making it as easy and stress-free as possible to get what they need: legal help.
Pre-Screen Each Prospective Client to Save Time & Effort
Not all leads should become paying clients. Some people need services you don't offer or they don't have a case that's compatible with what your law firm does best. Or, there might be a conflict of interest.
There are so many possible reasons for a lead to be disqualified. It's best to find out as quickly as possible when someone is not a good candidate for your firm so that your client intake staff can focus on following up with other leads.
Screening each prospective client might sound like a lot of work, but it doesn't have to be. Using online client intake forms with pre-screening questions and custom fields can help you determine if a lead is a good fit for your firm's services. You can also go through an intake questionnaire over the phone for prospective clients who call in.
Pre-screening saves time
When your intake specialist takes the time to screen clients, it helps save everyone time. Your staff will be able to move on and stop following up with a lead who is never going to become a paying client, and the lead will be able to move on and seek out other solutions to their legal issue.
This is also another opportunity to offer a great customer experience. Even if someone is never going to become a client of your law firm, you can still help them by providing resources or directing them to other firms, if need be.
Providing value to everyone who contacts you will help build your reputation and referral business over time. Word-of-mouth recommendations will provide new cases at no cost to your firm!
If a lead is qualified, then this is a great way to collect the important details your legal team will need to start working on the case. Getting that relevant information before and during the initial consultation makes the intake process simpler for your entire team.
Create Systems For Everything
Systems are necessary for business growth, and your firm's legal intake process is no exception. A documented intake process accomplishes several important goals.
First, it ensures that no member of your team is indispensable. If someone goes on vacation, gets sick, or quits, then your system should be documented and easy to train someone else to use. It's a big risk to count on one specific person in your organization to understand the intake process.
Second, it makes the intake process much easier. When you have established steps in the client intake process, it makes onboarding simpler for everyone involved and saves time. Your firm will ultimately be able to take on more cases because your staff will be able to get new clients onboarded quickly.
Finally, it improves the client experience. When your staff is confident in the steps they need to take, from the first call to the initial consultation to signing the fee agreement, it's less stressful for each new client. They'll feel confident their case is under control and they've made the right decision in choosing you over other law firms.
Use Automation to Prevent Human Error
Many law firms are still really old-school. They don't even consider using all of the wonderful automation tools out there. That's good news for your firm because you can use these tools to get a competitive advantage.
Case management software can cut down on the time your staff spends on data entry and paperwork. It will also allow you to quickly replace information in standardized documents, such as your fee agreement form.
Software tools can also be very helpful when performing a conflict check. You'll be able to quickly analyze all the information and client data in your database to prevent potential conflicts of interest.
Human error can affect your reputation
Automation helps to reduce common errors, like leaving a previous client's information filled in on intake paperwork. It's embarrassing for both you and the client when a preventable error occurs.
AI-powered management software is a win-win–it reduces the need for manual checking and prevents duplicate data entry tasks, saving legal professionals time and helping to ensure that important processes are error-free.
Online forms to collect client information can also help improve the intake process. Instead of having to go over their information on the phone or in the office, the client fills out their intake form online whenever it's convenient for them. Automated emails can provide reminders without your staff need to make any phone calls!
Continue Working Toward Improvement
In many law practice areas, the goal isn't to get repeat business. You don't want to see the same clients over and over as a defense lawyer or personal injury attorney.
With that said, you should be working toward getting more referral business. This means you need to continually upgrade your intake process to improve the experience throughout each client's journey.
Creating systems now doesn't mean you'll never make changes in the future. Your intake form might evolve based on what you learn from current and future clients, for instance. You'll find points of friction in the process and discover opportunities for improvement.
Collect data to improve your intake process
Having surveys and data tracking built into your intake process is a good strategy for getting valuable feedback you can use to increase clients' satisfaction and conversion rates. Find out how they heard about your firm, whether through a Google search, word of mouth, or any advertising you're doing.
Don't forget to start tracking preferences for how people like to be contacted. Many clients now prefer text and email that they can access through their mobile phones, instead of phone calls.
Remember that client time is valuable, and so is yours. Most prospective clients will appreciate anything that makes the intake experience streamlined, quicker, and easier.
Client Satisfaction Starts with the Intake Process
If your office is located in an area with lots of competition, then you're going to be fighting with other law firms for the same leads. You need to stay top-of-mind with potential clients. If you drop the ball, another firm will pick it up.
Ensuring that your law firm's casework and case outcomes are strong is critical, of course, but that alone won't provide a competitive edge and convert prospective clients. You also need a fantastic sales and intake process. Getting a new law firm client requires you to build trust from the very first interaction.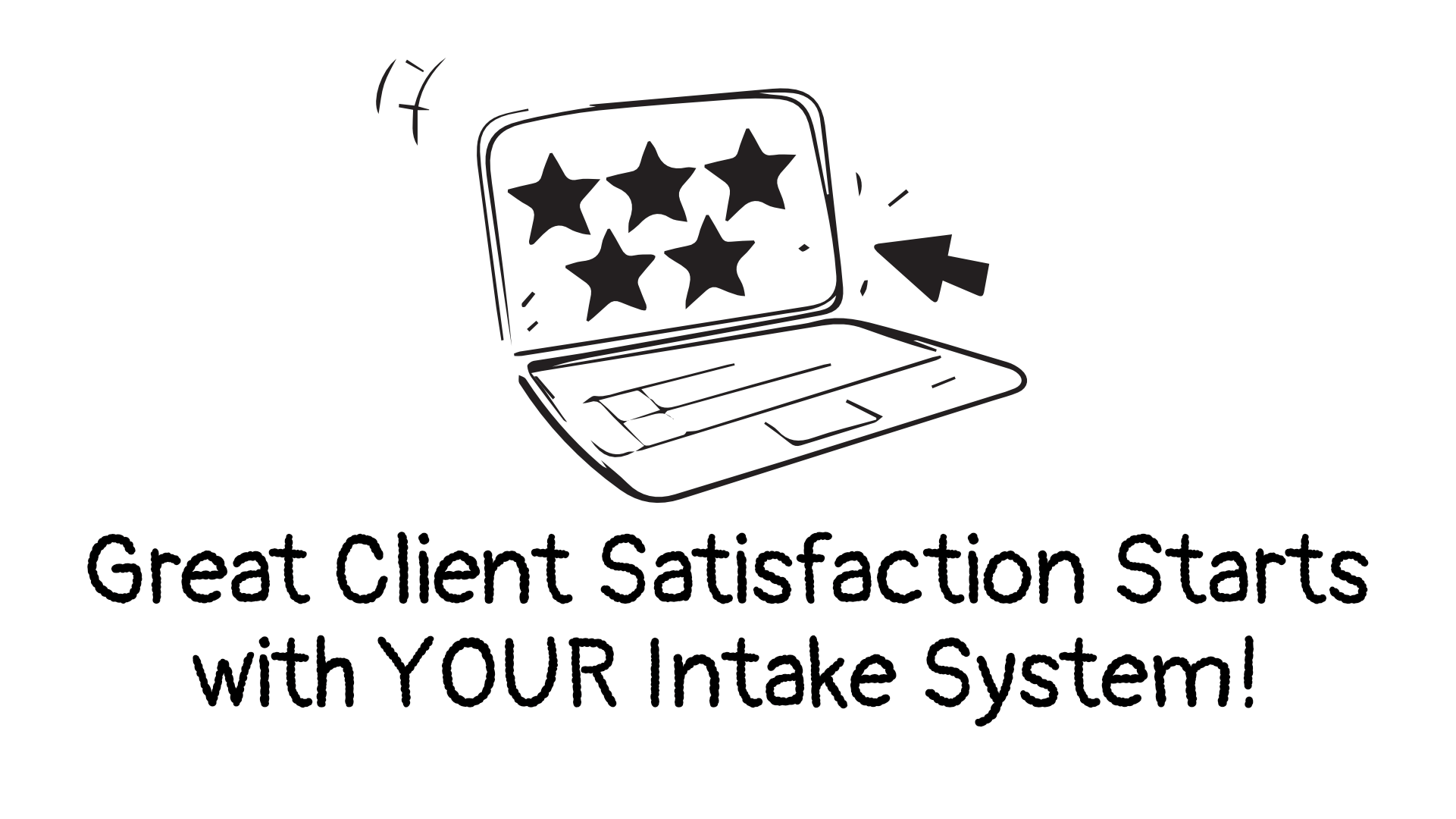 Build trust and satisfaction with prospective clients
Client satisfaction starts with your intake process. A good client intake process sets the tone for the whole process of working with your firm.
That all-important first impression will help prospective clients get the peace of mind they need to move forward. An effective sales process should help clients feel hopeful and enthusiastic about working with your firm.
Don't Wait to Improve Your Intake Process
Remember: turning leads into clients starts with the very first interaction. You don't want your staff to improvise on the client intake process. Give them a clear and simple system to follow and you should start seeing the benefits quickly.
Want to improve client satisfaction? SMB team can help you implement systems that will boost your revenue. Download our intake questionnaire to start revamping your intake process.