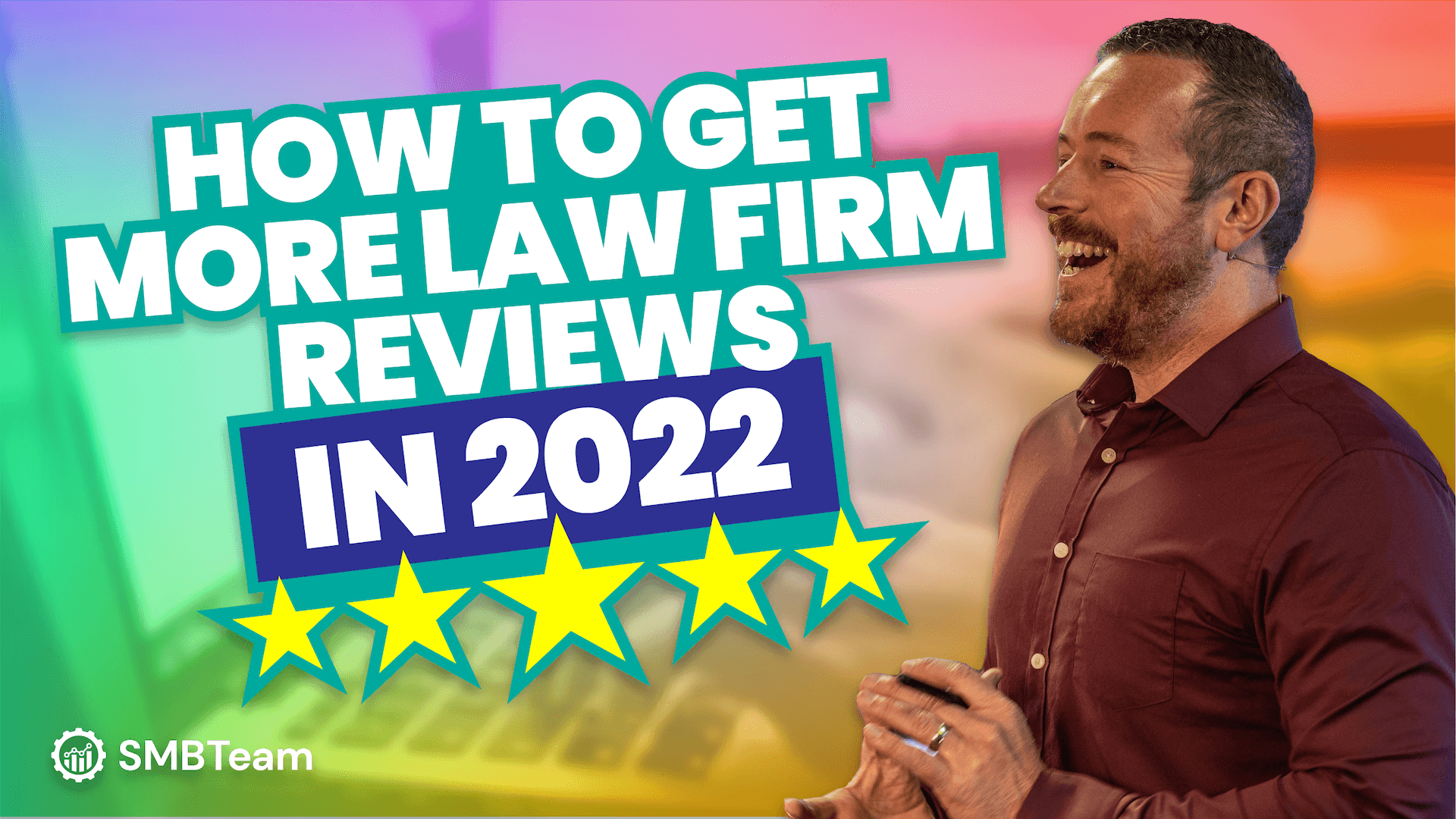 The Simple Secret to Collecting More 5-Star Reviews for Your Law Firm
Law firm reviews are GOLD for getting new cases, regardless of your practice area. They help you build your online reputation and get new leads. They can even help you get a major competitive edge over nearby firms. 
The problem? Getting clients to leave a law firm review after they work with you can be a huge obstacle. Even if someone is thrilled with how you resolved their case, that doesn't mean they will decide to leave a 5-star review on their own. 
Fortunately, you don't have to wait for clients to take the initiative. You can take proactive steps to help ensure a consistent stream of high-quality law firm reviews that will boost your online presence and bring in new prospects through Google searches. Read on for the simplest, most effective way to collect more 5-star reviews for your law firm in 2022. 
Why Law Firm Reviews Matter 
When was the last time you decided to try a new restaurant without checking the reviews first? Realistically, we all look up businesses online before we visit them for the first time. No one wants to risk spending their hard-earned money on an experience that will ultimately be disappointing. 
Reviews can also help people make important, even life-changing decisions. People want peace of mind when they choose a law firm. They don't want to gamble and hire a law firm with no reviews.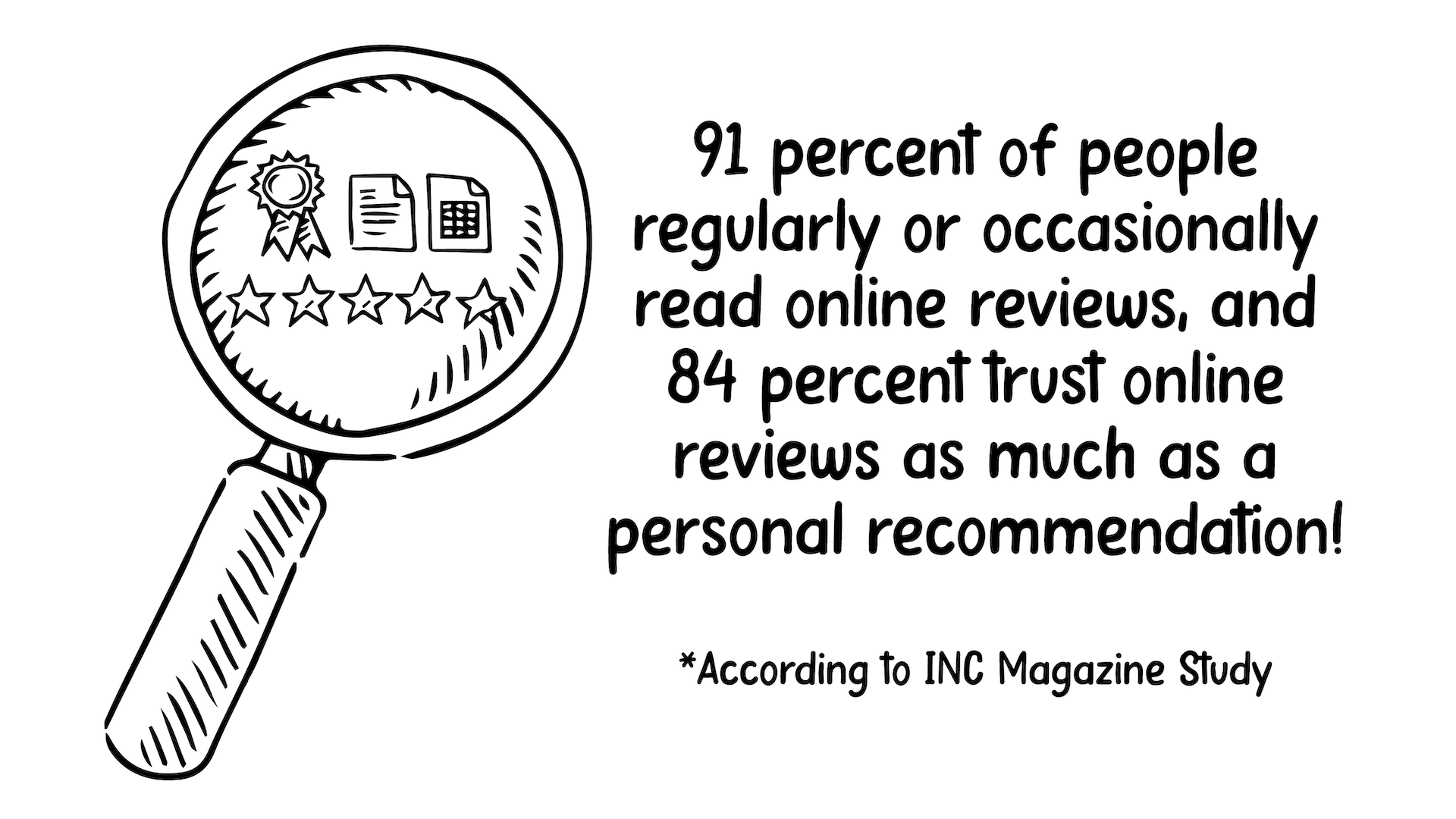 Prospective clients want to see evidence that other people have had a good experience with your firm before they call you. They want to feel confident you'll solve their problems with minimal effort on their part. 
Reviews provide social proof. They boost your firm's reputation. They also help set expectations for clients and make people feel better about picking up the phone to call your office. 
How Reviews for Law Firms Affect SEO (Search Engine Optimization) in 2022
Reviews aren't just important for the people who are searching for a lawyer and deciding which firm to call. They're also one of the top ranking factors in Google searches, making them critical for SEO success. 
It makes sense that law firms with hundreds of 5-star reviews are likely to fit a searcher's needs better than a firm with 7 reviews. It's just a safer bet that people will favor a law firm with more positive reviews when they're first searching for legal help. The algorithms will always favor law firms with consistent, high-quality reviews.
Why Don't More People Leave Reviews? 
Getting more reviews for law firms can feel like an uphill battle. You might have hundreds of happy clients, but how many of them have decided to leave you a review on their own? Even your most grateful clients might not help you out with a review. 
But why? Why don't people leave reviews when you've helped them solve their problems? 
First, people are busy. If you ask them to leave a review when they're in your office, there's a good chance they'll forget as soon as they walk out the door. They have to get back to work or pick the kids up from school or think about what to make for dinner. Writing a review for you will fall down on the priority list very quickly. 
Second, leaving a review is inconvenient. Sure, most people know how to leave a Google review. But actually reviewing a business involves looking the business up, logging in, and then writing the review. Even if it takes 5 minutes, that's a lot of steps! 
Third, lots of people don't know what to write in a law firm review. They get writer's block and freeze up. After a while, they just give up and walk away. They want to write a review that will help your firm, but they don't know how.
Finally, most people just don't understand how important reviews are for lawyers. They don't realize how much a 5-star review is worth for a law firm. The average person has no idea that reviews affect a business's search engine ranking. They don't have a clear REASON for leaving a review, so they let it fall off the to-do list.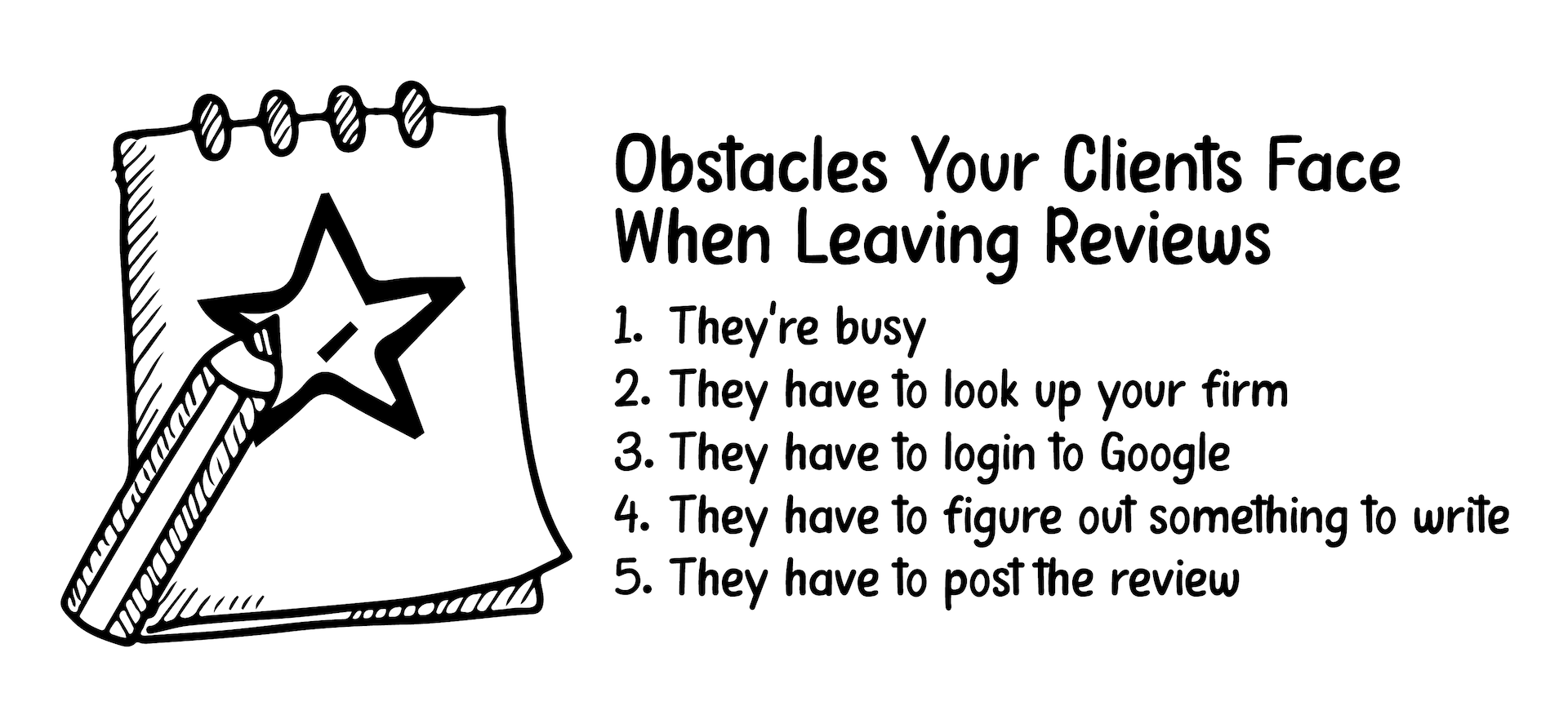 The Secret to Getting More 5-Star Reviews for Law Firms 
Understanding why people don't leave reviews can help you change your approach and simplify the process of collecting reviews. The secret to getting more 5-star reviews is to create a system that makes leaving reviews as easy as possible. Here's what to do.
Remove the Obstacles 
Removing obstacles and making it as easy as possible for happy clients to leave you a review will result in more reviews and better results for your firm. That means cutting steps out of the review process. Instead of just asking for a review when a client is in your office, send them a direct link to where they can write the review. 
Don't ask your clients to do homework, because most of them won't! If you send an email or text message with a link to the review form, you'll get a much higher response rate. 
Help Your Clients Tell a Story 
Storytelling is one of the most powerful tools in marketing. Tapping into a prospect's emotions makes it much more likely that they will call you over other firms. But how can you help your clients tell their story of working with your firm and solve their writer's block?
Simple. By giving them questions to answer in their review. 
Add a quick note in your email or text message with the review link that will guide your client in writing their review. Acknowledge that a lot of people struggle with what to say and offer these 5 questions they can answer to write a great review: 
What was the problem that you had before you came to our law firm?

Why did you pick our firm over all the other firms in the market?

What did we do for you?

What were the results?

How did these results impact your life? 
By having a client answer these questions, you'll get a high-quality review that tells a story and helps future prospects make the decision to call you. As a bonus, you'll get more keywords in your law firm's reviews that will boost your search engine rankings and help you get even more leads. 
Don't Make Your Clients Do The Work–Set Up A System  
For building your online reputation and marketing success, you NEED reviews. Not only do you need reviews, but you also need consistent reviews. Google's algorithm factors in how often you're getting new 5-star reviews, not just the ones you already have. 
Setting up a system for collecting law firm reviews after every successful case will make it easy for clients and for you and your staff. You'll get more reviews, and those reviews will become high-quality social proof that will boost your firm's success and fuel your marketing efforts. This system is simple, but you'll be amazed by how well it works.