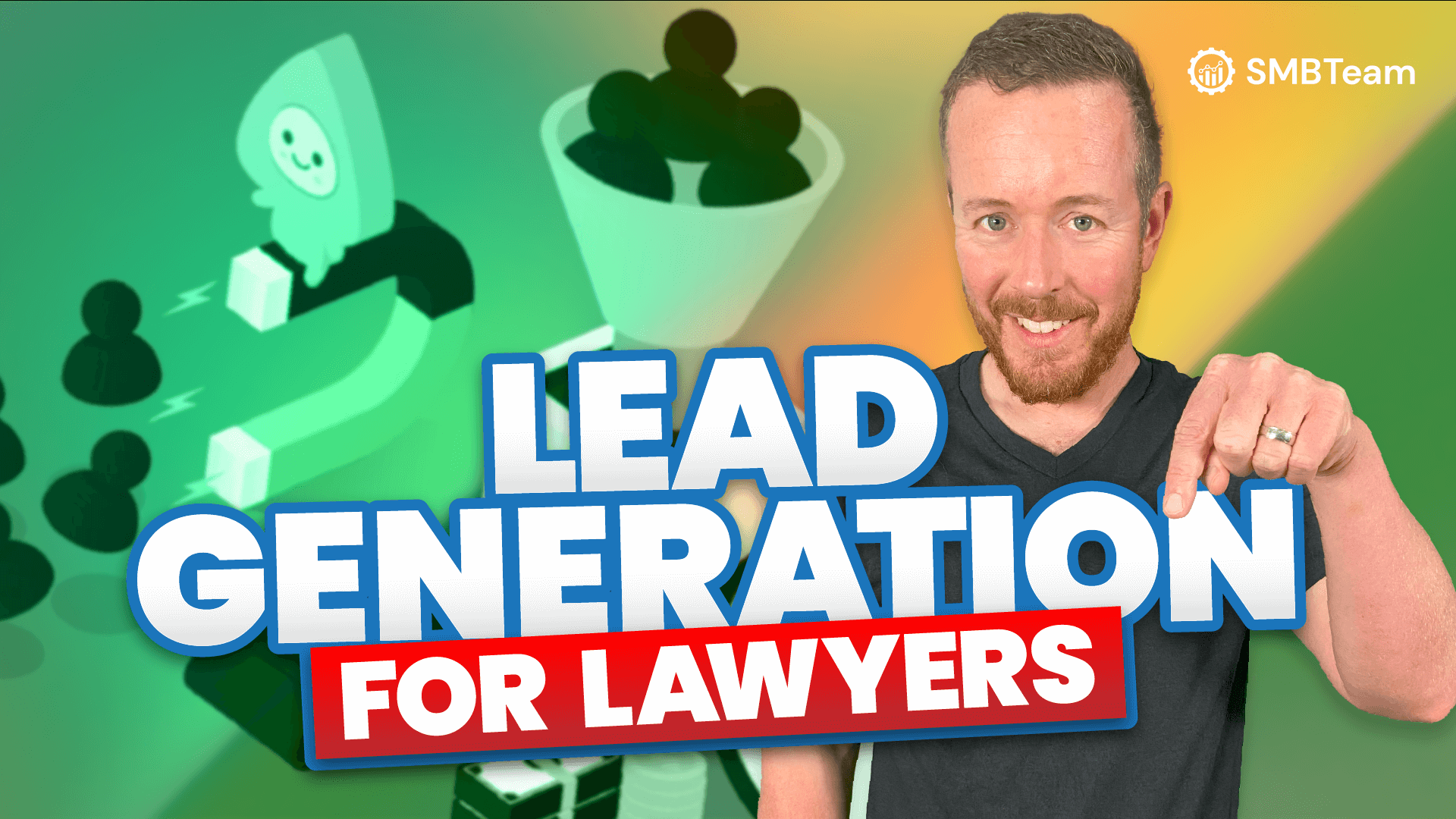 Looking ahead to 2024 and wondering how to approach your law firm marketing efforts in the coming year?
Concerned about the potential of an economic downturn affecting your business?
Frustrated by the low ROI you're seeing from your law firm's marketing efforts in 2023?
Worried that the bigger firms nearby are grabbing all the law firm leads in your area?
If you find yourself asking these questions, then you're probably struggling with lead generation for your law firm. You might be seeing fewer clients sign on, simply because you're having trouble competing with larger law firms for leads in your area. Over time, that will cause your business to stagnate or even go under altogether.
The good news is that there are lots of lead generation methods that can give you a competitive edge, even against large and well-known firms. If you're ready to beat the big guys at their own game, here's how to do it without overspending on lead generation services.
Lead Generation for Lawyers is Essential for Law Firm Growth
Your law firm can't grow without reliable lawyer lead generation, period.
If you're not getting the number of high-quality leads that your law firm needs to thrive, then it's time to zoom out and think about what you should change about your strategy. You CAN stand out and enjoy consistent lead generation without spending thousands of dollars on ads!
Lead generation is something you always need to prioritize, whether you're running a personal injury or criminal law firm, a family law practice, or an estate law firm.
Regardless of how the economy is doing, people will always need legal services. Many law firms respond to economic downturns by cutting expenses and laying off staff, but this won't help you create a recession-proof business.
Instead, embrace abundance for your firm and focus on digital marketing strategies that will bring in new leads. Here are some ways to beat the biggest spenders in your niche for lawyer lead generation–even if you've got a small marketing budget.
What is Lead Generation for Lawyers?
A lead is someone who could be a potential client (either now or in the future) and is aware of your law firm through some form of marketing or advertising. A lead might be a person who was referred to your law firm by a former client, someone who clicked on your Facebook ad, or a person who follows your YouTube channel for the actionable advice you provide.
There are many ways a person can become a lead for your firm. The more marketing and lead generation strategies you use, the more opportunities you'll have to attract prospective clients to your law firm over your competitors. With that said, you have to be strategic and purposeful about lead generation for lawyers if you want to create a recession-proof pipeline of prospective clients.
Identifying Your Law Firm's Target Audience
To outperform your competition, you first need to know your customers as well as you know your practice area so you can identify their needs and wants.
If you're running a firm of personal injury lawyers, for instance, then your target market is obviously going to be people who have experienced pain and suffering due to a preventable injury or wrongful death. If you have a family law practice, on the other hand, your target market might be high-net-worth people who are considering a divorce.
Lawyer lead generation for these two audiences will be quite different, even if they are both going to use search engines, word-of-mouth, and ads to find a lawyer. You'll need to leverage platforms, messaging, and tactics that are different from lawyers in other practice areas in order to appeal to your ideal clients.
The Needs and Wants of Your Potential Clients
To understand your audience, you need to ask yourself a few simple questions, starting with: what does your ideal client need and want, and how can you help them get it?
Depending on your legal industry niche, the answers to those questions will be quite different from other firms. Your legal services are the value proposition you need in considering lead generation strategies.
However, you have to think even more strategically than this when it comes to lead generation for lawyers. You can access your target audience both directly and indirectly–through a combination of smart marketing and strategic networking–and gain qualified leads on an ongoing basis.
Unlocking Reciprocity as a Legal Lead Generation Strategy
There's a Zig Ziglar quote that every lawyer should know: "You can have everything in life you want if you will just help enough other people get what they want."
Your goal for your legal practice should be to help people. If you can provide enough value to others, you will unlock the power of reciprocity.
Reciprocity essentially means the natural human impulse to give value back to someone who has done something for us. If you give someone a birthday gift, they'll be likely to give you one as well. If you provide helpful advice to potential clients, they'll be more likely to provide referrals or even become a client themselves.
Attracting Prospective Clients Starts with Providing Value
When someone looks for a lawyer using their favorite search engines, it's often overwhelming and difficult for them to know who they should call first. Many lawyers talk about their accomplishments on their websites, but they don't always offer value to these website visitors who could be potential clients.
You can set your law firm apart by offering your specialized legal industry knowledge to prospective clients through content marketing and educational events. Providing value to leads through different marketing channels is a great way to become the go-to resource for legal services in your niche and to stand out among law firms in your area.
Why Referrals are Pure Gold for Law Firms
Referrals are the best form of lead generation for lawyers, period. Unlike many forms of marketing, referrals don't typically cost law firms a dime. People are inspired to refer others to a law firm when they've gotten some value from the firm or at least have a lot of trust in that firm to provide value.
On top of being essentially free advertising, referrals are pure gold for law firms because they provide an implied endorsement.
If you were recommending a restaurant to a friend, you'd probably send them to one of your favorite eateries, not a place with mediocre food and a bad track record of food poisoning. The same is true in lead generation for lawyers through referrals!
People are only going to refer others to your law firm if they trust that you will provide excellent legal services and value to your clients. Reciprocity will make people even more likely to promote your business through referrals, so continuing to provide value without asking for anything in return will result in lead generation over time.
The Power of Thought Leadership for Law Firms
Public perception of lawyers is affected by several factors. First, people need to be aware of your brand before they pick up the phone when they need help with personal injury or any other kind of legal problem.
Because you have experience and expertise within your practice areas, you can become known as a thought leader by sharing your knowledge online and within your own community.
People often take their knowledge for granted, and forget that they can help others by breaking down tough concepts. Legal training is a rare and valuable skill that you can use to help people and inspire them to recommend your law practice. You'll build trust and goodwill quickly, which will help you generate more leads.
Thought leadership is all about proving your knowledge and expertise in your field, whether through a blog post that's been re-shared many times or a webinar that helps people get the help that they need before they hire a lawyer. Becoming a thought leader generates both professional authority and gratitude!
Hosting Live and Online Events to Generate Referrals
One of the best ways to leverage the power of thought leadership and reciprocity is to host live and online events where you help people get what they want.
For example, if you're a personal injury attorney, then you might host a seminar for funeral directors on how to get insurance companies to pay for their clients' funerals. This helps them make more money, which improves trust and unlocks the power of reciprocity. Now, the funeral directors aren't your ideal customers–but people who come to them often have wrongful death cases, which are likely to get referred to you.
Think about people within your business community with access to your ideal clients. What kinds of events could you hold to increase the number of referrals and generate leads?
Leveraging Content Marketing and SEO for More Web Leads
Content marketing, which is the process of educating potential clients through videos, blog posts, and other forms of content, is a sustainable long-term strategy that can help your firm build thought leadership and generate leads over time. It is also an important search engine optimization strategy that can boost the position of your firm's website in organic search engine results.
Getting more website visitors through your content is a great way to capture leads–for free! The more content you produce that is helpful and builds trust in your brand, the more organic leads you'll get for your law firm.
With consistent content marketing, your website authority will gradually increase and your Google search ranking will improve, driving more website visitors and even more leads.
Law firm SEO is extremely important for getting noticed by potential clients in your area. People don't typically keep looking through the search engine results after the first page, so getting your firm consistently within the top few results in local searches will get you a lot of organic traffic and identify leads who are ready to pick up the phone.
Getting Started with Content Marketing
Creating content to build your content marketing and SEO strategies might seem overwhelming, but it doesn't have to be. There are shortcuts you can take to create original content more efficiently.
One smart shortcut is to use artificial intelligence tools like ChatGPT to come up with topics for your content, then take some quick videos with your phone and post them. You can also hire writers to turn an outline or one of your videos into compelling written content.
For more valuable content like an ebook, you can create landing pages that request a visitor's name, email address, and other information before they can download the content. This strategy provides follow-up opportunities that can turn qualified leads into clients.
There are lots of ways to approach content marketing that doesn't require a ton of time or money. You already have the knowledge that people need–share it with potential leads and start them down your sales funnel.
Social Media Marketing: Building a Brand for Your Law Firm
Social media marketing is becoming more and more important all the time for modern law firms. People of all ages spend time on these platforms and they can be a rich source of attorney lead generation. Social media is especially powerful for building a brand and creating awareness, which is at the very top of the sales funnel.
Think of social media as a simple way to create and promote more content. You can make videos and social posts specifically for these marketing channels, but you can also use them to promote blog posts, your YouTube channel, and more. Social media is also a great way to engage with potential clients and learn more about the kind of content they want from you and your firm.
Leads generated through social media posts can be extremely valuable for multiple reasons.
Obviously, they could end up bringing your firm cases. They could also help to spread the word about your services by sharing your posts and talking about your content on social media platforms, allowing your content to reach even more people.
Investing in Targeted Online Advertising
Advertising has changed a lot in the last few decades, but it's still an important method of lawyer lead generation.
Many attorney lead generation experts focus on advertising to bring in quality leads who are ready to move quickly and choose a lawyer immediately. This can be a good way to get new cases while waiting for "slow burn" techniques like content marketing and law firm SEO to start bringing in new cases.
The downside of advertising is that you generally have to pay per lead, per click, or per "impression" (every time someone sees your ad). For lawyers, strategic, targeted advertising is the only way to keep ad-based lead generation affordable. The competition for many keywords is very high, and the clicks tend to be expensive.
Local Service Ads: A Smart Choice for Lawyer Lead Generation
If you want to leverage paid advertising within a search engine like Google, local service ads can be the way to go. Small and regional firms don't need to blast ads to the entire country, and competing for major keywords nationwide is a losing battle.
Local service ads are displayed to people looking for the specific services you offer, in your region, meaning you are more likely to get high-quality leads from your advertisements. They are highly targeted and can be highly effective.
Another benefit of these ads is that you'll only pay when someone contacts you directly through the ad. This makes them more affordable–plus it's easier to track the return on your ad spend.
Generate Leads and Nurture with Automation
Digital marketing activities can be extremely time-consuming if you and your team are doing everything manually. Embrace automation to make your life easier!
When you have active legal clients and other responsibilities, it can be tough to prioritize marketing. That's where automation comes in–to supplement the work you and your team are doing and to move client leads down the sales funnel.
Once you've used lead generation techniques to identify a prospective client, automation systems can help you nurture that lead and keep your firm on that person's radar.
For example, if someone signs up for a webinar or downloads your ebook, you can use that contact information to provide more value through an email sequence or newsletter, encourage leads to ask questions, or offer free consultations. Keeping people engaged is key to turning more leads into cases.
There are lots of tools available at various price points for lead management. Using automation software for a portion of the sales process will free up your staff for other responsibilities. Do some research and weigh your options before you choose the solution that works best for your firm.
Intake Systems That Sell
Identifying leads is only the first step. Once you've gone through the lead generation process, you'll need strong intake systems that will convert those leads into clients.
Ideally, you will have dedicated account managers and intake specialists who will maximize the results of your lead generation systems. The better your intake process, the better your conversion rate.
If you're concerned about the cost of hiring dedicated account managers and intake specialists, take a step back and think about this investment some more. These staff members will pay for themselves, if your marketing, lead generation, and intake systems are set up properly. Eventually, you might even need a dedicated intake team as your firm grows!
As a service provider, it's up to you to make sure that all potential clients have a positive experience during the intake process. Asking your existing admins to take ownership of the process doesn't usually yield the best results.
To start, make sure that you hire someone who is focused on the steps of the sales funnel after lawyer lead generation. Even someone working remotely on intake and doing live call transfers is better than handing off this responsibility to your busy administrative staff.
Are Lead Generation Services Worth It for Lawyers?
Are hands-off attorney lead generation services going to get you qualified leads? It really depends on the service and on your business. Some lead generation companies provide exclusive leads and great results, while others are all about volume over quality leads.
Lead generation services vary a lot in effectiveness and value. While it's nice to be able to hand off the task of lead generation, many lead generation companies won't give you the kind of results you're looking for.
If you'd like to explore this option, it's important to find a reputable company that uses the pay-per-lead model so that you don't end up overspending as you try to get new cases. Some lead generation companies will provide multiple buyers with the same lead, making that potential client far less valuable, for instance.
When Does it Make Sense to Hire a Third-Party Service for Lawyer Lead Generation?
Turning to lead generation services can make a lot of sense if you're looking to get as many leads as possible, as soon as possible. Sometimes, getting a batch of new cases quickly can allow you to invest in more long-term strategies of attorney lead generation through different digital marketing techniques.
It's important to realize that the average lead generation service isn't going to have specialized knowledge of the legal industry, which can affect the results you'll get from using a pay-per-lead service. If you can, look for PPL companies that specialize in lead generation for lawyers.
Choose your service provider carefully and read the fine print before you sign on. Reputable lead generation companies will hold themselves accountable for providing clients with great results.
Long-Term Lead Generation for Lawyers is Critical
It's important to use a mix of short-term and long-term strategies in lawyer lead generation. If you don't create a sustainable lead generation machine, your business is likely to stagnate over time.
Strategies like advertising can bring in quick attorney leads, while search engine optimization and content marketing take time to build up. By using both, you can build consistent revenue.
Regardless of the systems you use, it's important to constantly track campaign performance for your marketing efforts, through analytics and the data you collect through landing pages.
Measuring performance for all your marketing activities will help you to better understand how a potential client might interact with your brand and how you can drive better engagement.
Creating Your Law Firm's Lead Generation Strategy
Developing your firm's lead generation system is a process that requires some strategy. Whether you have an in-house marketing team and multiple lawyers working for you, or your firm is still up-and-coming, your lawyer lead generation efforts will take some time to set up and start working.
Start by taking inventory of your law firm's current systems, even if they're "unofficial" at best. That way, you can start identifying areas of improvement and build your firm's online presence beyond being listed in a major lawyer directory and having a functional website.
Struggling to Get Started with Better Attorney Lead Generation Systems?
Overwhelmed by all the steps needed to create a lawyer lead generation machine? We can help!
We've coached countless lawyers and boosted their bottom line with lawyer lead generation strategies that work for a variety of practice areas. At SMB Team, we're lead generation experts in the legal space and we're passionate about helping small and medium firms succeed.
We know exactly what it takes to help firms outperform the competition and find the best legal leads. Book a free law firm 360 analysis with our attorney lead generation experts to find out how your business can grow with smart strategies.