LinkedIn is an extremely important social media platform for lawyers to be active on.
At it's core, LinkedIn is the world's largest professional network – connecting millions of professionals across the world.
It's a great way to share valuable industry information, connect with professionals within your industry, and establish yourself as a thought leader within your profession.
But for lawyers, LinkedIn can serve a dual purpose – being both a place for you to connect with other attorneys in your area, as well as find potential clients for your law firm.
And so the question may arise – well, which practice areas does LinkedIn work for?
As we said, LinkedIn is a professional audience and social media network. Most B2B attorneys as well as B2B practice areas will find great success in utilizing the platform. Practice areas such as: Business Law, Corporate Law, Employment Law and many others.
It can also be a great place for family and divorce lawyers to reach the higher-income demographics that they're looking to reach.
So, if you're looking to learn how to deck out your LinkedIn profile in order to attract people to your account and land cases from the social media platform, keep reading.
TIP #1: Include a Professional Photo or Headshot for Your Profile.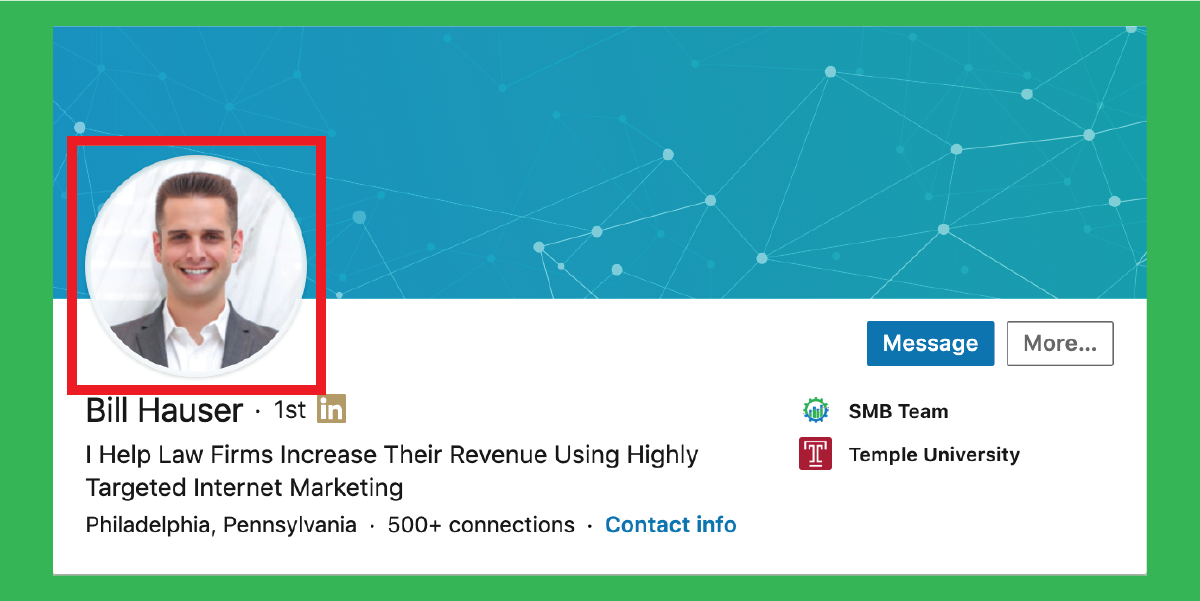 As an attorney, you likely have an album of these on hand from your website or other social media platforms.
Having a clear, high quality, front-facing photograph is important to attracting potential leads to your profile and helping them build trust with you through LinkedIn.
Make sure that your LinkedIn profile picture isn't a full-body photo, or oddly cropped.
You'll want to zoom in directly on your face so that poential clients can clearly see you.
TIP #2: Use a Descriptive and Impactful Tagline
Just saying, "divorce lawyer" or "employment lawyer" isn't enough.
Get creative!
Think about how you can impactfully convey what it is you do, and how you do it.
For example:
"I help busy professionals amicably dissolve their marriage and divide their assets."
TIP #3: Accurately List Your Practice Area In Your Title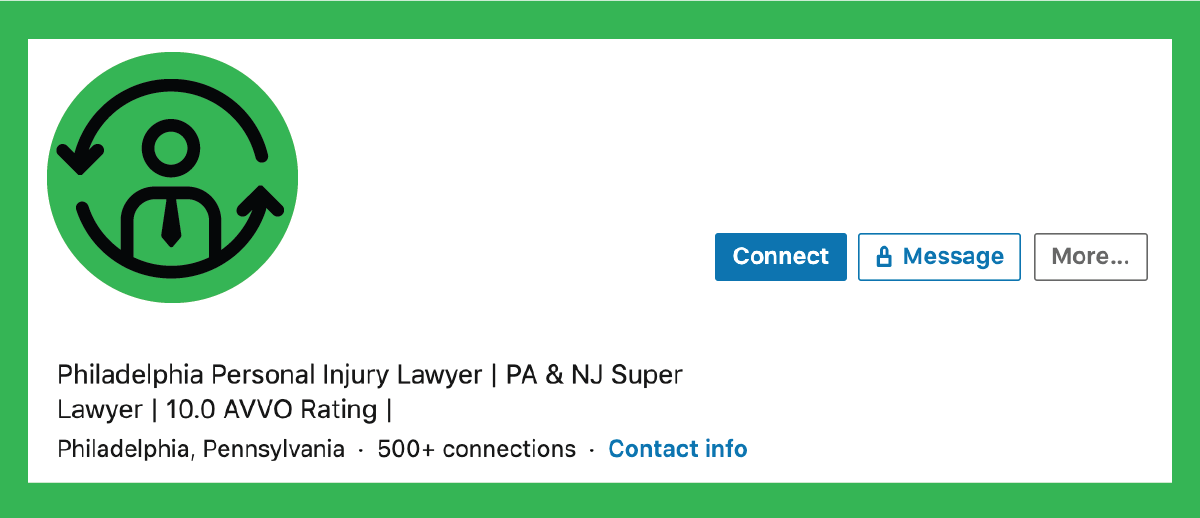 Instead of just saying, "Lawyer" or "Philadelphia Lawyer", get specific about what you do.
For instance, in the example we shared above – this particular attorney (whom we blocked out their personally identifying information) chose to include their specific practice area, as well as any accolades or ratings they may have received.
They went further than "lawyer" and even further than "personal injury lawyer". This attorney included his local geogrpahic area, which helps to speak directly to a specific audience.
TIP #4: Publish High Quality Content 5 Days In A Row
When you publish valuable content that's easy to re-share, repost and react to – you'll start gaining a lot of traction on the platform.
People within your industry, and potential clients, will start viewing you as a thoughtleader in the industry and are more willing to consume more of your content, follow you, etc.
Luckily for you, the algorithm's on LinkedIn are much more accomodating to organic content. Unlike Facebook, which is mostly a "pay to play" platform at this point, you're able to reach a colder audience by using hashtags to get your posts seen.
We recommend publishing quality content 5 days in a row so that when people travel to your LinkedIn profile, they see thoughtful and helpful content.
Additionally, you'll want to build out your profile by having colleagues endorse you for skills. An easy way to do this is to endorse colleagues for skills, and they'll endorse you back.