t's official – Local Services Ads (LSAs) are being rolled out to lawyers and law firms in select U.S cities Nationwide.
This is not another "Google Being Google" episode, with the advertising giant rolling out a minor update or change that leaves us scratching our heads.
This is a huge shift in the PPC landscape for lawyers. The introduction of LSAs for lawyers is the first major change to Google's Ads platform in recent years.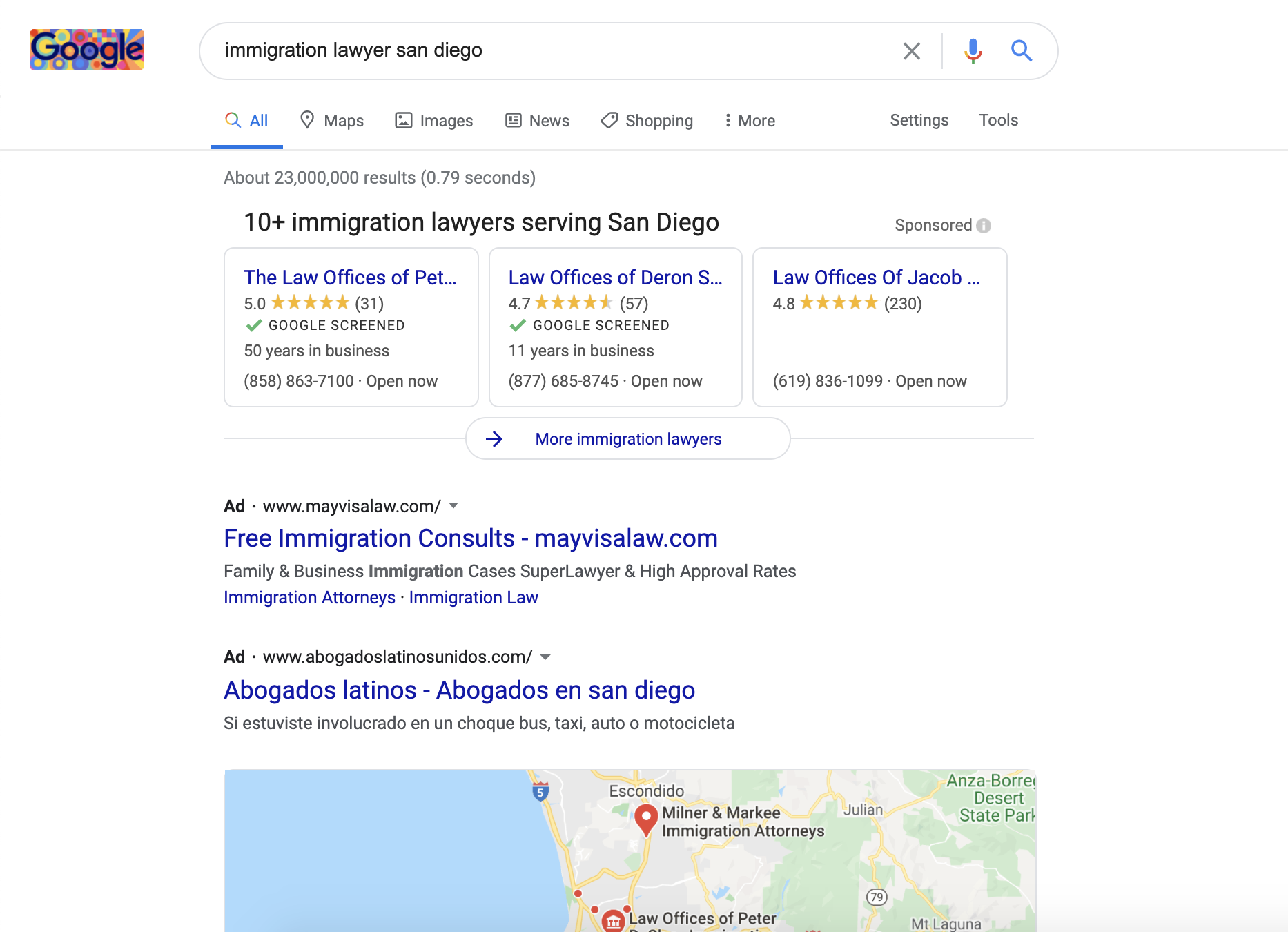 What Are Local Services Ads?
Local Services Ads (also known as LSAs), allow you to pay-per-lead, rather than per-click. You can see 3 LSAs above, displayed horizontally. While LSAs are effective, they also are quite disruptive to the 1st page of Google. For keywords that trigger LSAs, only 2 search ads will show up beneath the 3 LSAs.
With only 2 search ads showing up, you will likely see less clicks on your Google ads, supplemented by the new leads that come through your LSAs.
It must be noted that (since this is brand new) there is no perfect formula to get your LSAs in the top 3. Here are the current factors that we know determine if you get ranked in the top-3:
LSA "Verified" Reviews (not Google Maps Reviews)
Response Time + Lead Notes
Radius (Proximity)
The Goal of LSAs for Lawyers
The goal of Local Services Ads is to make it easier for customers to find local businesses and connect with them directly. We originally saw them starting to pop up for home service contractors such as roofers, painters and landscape designers.
Essentially, LSAs eliminate the need for a user to leave Google's interface and be redirected to a landing page. It keeps searchers on Google and allows them to interact directly with the local businesses that they want to contact through the LSA interface.
Local Services Ads contain your law firm's phone number, hours of operation, service area and your review rating. If a user clicks into the ad itself, they will be presented with more information, including your business overview, business bio, and your reviews. A customer can decide to hire you and your law firm after reviewing your Local Service Ad profile by calling the phone number.
LSAs are driven by local searches with proximity being one of the biggest ranking factors (hence "local").
Once your Local Services Ads get verified, your law firm will be given a green checkbox next to your firm's name, also known as a "Google Screened" Badge. This tells users that Google has verified your background and backs your expertise. A Google Screened badge gives you extra credibility and gives searchers more confidence to hire you for legal representation and services.
As of July 30th, 2020, Google opened eligibility applications for Local Services Ads for 17 practice areas of law.
While this may change in the future, this is currently a big deal and there is a "first-mover" opportunity in your market.
Here are the 17 practice areas that were just launched:
Bankruptcy, Business, Contracts, Criminal, Disability, DUI, Estates, Family Law, Immigration, IP, Labor Law, Litigation, Malpractice, Personal Injury, Real Estate, Tax Law and Traffic Law Services.
How This Will LSAs Change the Google Ads Search Landscape for Lawyers?
With the introduction of Local Service Ads for law firm marketing on Google, the major shift is that regular PPC search ads will no longer be the first result a searcher sees on the Search Engine Results Page (SERP).
In the example of Roofing, you can see that the LSA (the carousel at the very top is the first search result. It is placed above traditional PPC search ads, and limits the number of PPC search ads to two. When searchers click into "More immigration lawyers", they're flooded with hundreds of other listings for immigration lawyers in their local area.
On top of that, only businesses who have applied and been approved for LSAs are shown at the very top and are given the green "Google Guarantee" badge. Google states that the purpose of the Google Guarantee badge is to, "build a strong reputation online, giving potential customers peace of mind that you have been vetted and approved by Google. If a customer is unhappy with the quality of your work, Google may refund up to the amount paid for jobs booked through Local Services ads, with a lifetime cap for coverage."
Note: For lawyers, you will be given a "Google Screened" Badge, not "Guarantee" Badge which is a cash-back offer promise Google makes to searchers when hiring home-services contractors.
Take this example… LSAs were rolled out to home service providers such as Roofers in late 2019. When viewing all of the Local Services listings for Roofers… take note of how many "Google Guarantee" roofers there are.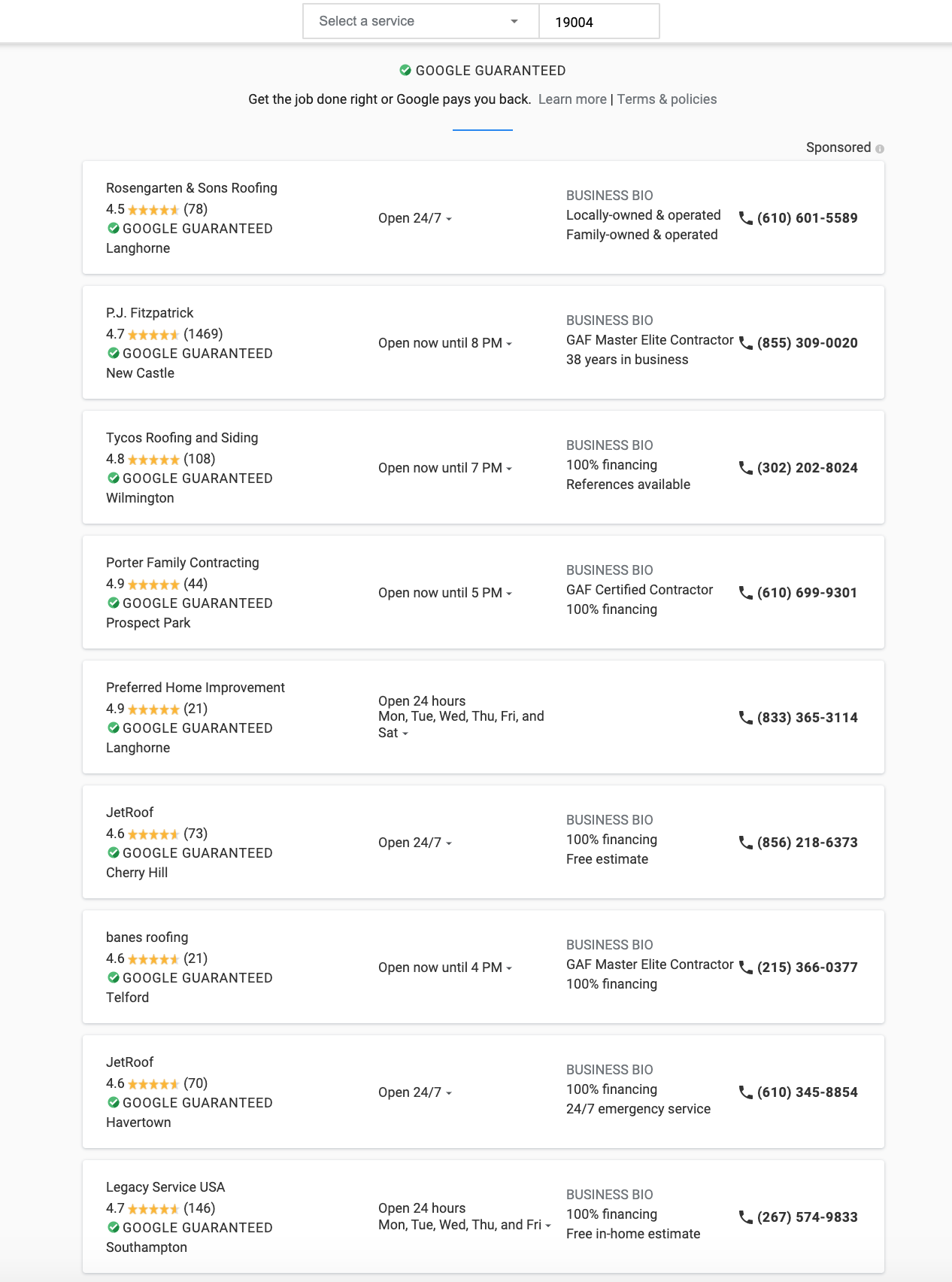 The screenshot above doesn't even fit in all of the roofers who have applied for LSAs and were given the Google Guarantee badge.
Now, compare the list above against the amount of "Google Screened" immigration lawyers below:
Why is this important?
Google rolled out LSAs to home services way before lawyers. Now that LSAs are available to more legal practice areas and cities, a domino effect will occur.
It's extremely important to capitalize on LSAs as fast as you can. This is a new opportunity – and if made permanent – will likely disrupt the PPC space for lawyers.
If you are only investing in PPC search ads, and not LSAs your law firm's ads are going to be pushed further down the page, and you will have to compete with Google's favoritism and push for LSAs.
What could this mean? Fewer clicks, traffic and leads to your PPC search ads.
What To Do About LSAs and How to Apply for Them for Your Law Firm
The SMB Team is committed to helping law firms navigate LSAs and the "new" era of PPC for lawyers.
If you are interested in getting more leads & growing your business with LSAs, contact our Digital Marketing Consultants today!