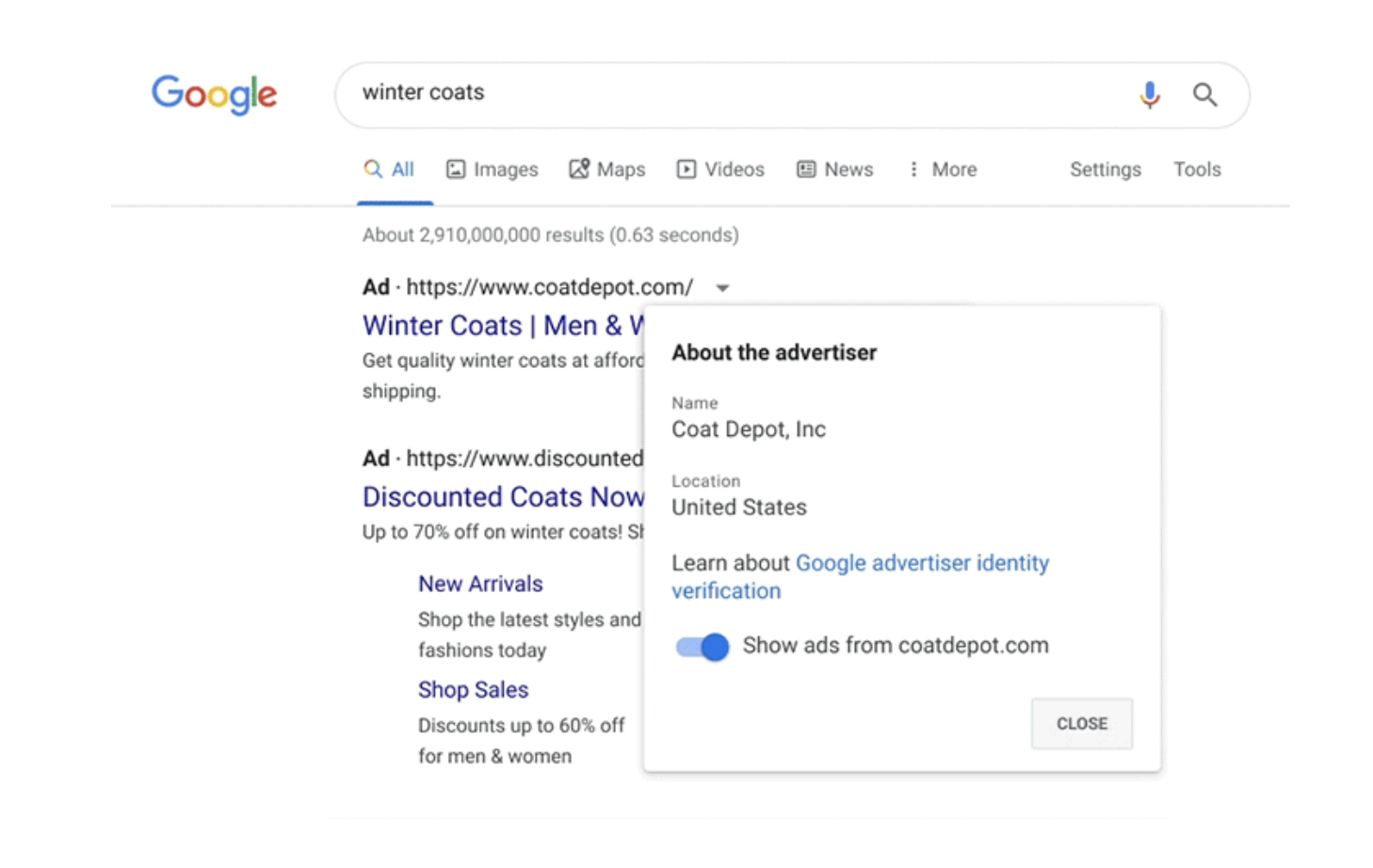 Google is the most popular search engine in the United States, and its many advertising programs play a key role in customer acquisition for businesses large and small. Because of this, shockwaves inevitably ripple through the business community whenever the company announces changes to its policies and programs.
The latest change worrying law firms is the announcement that advertisers will need to verify their identity in the future in order to run their PPC (Pay Per Click) ad campaigns on Google. This change is intended to protect consumers, but many lawyers are concerned about what this new policy will mean for them.
At SMB Team, we know how important it is to comply with regulations, ethics, and policies in marketing. If you're an attorney and you're worried about how to comply with the new regulations, here's what you need to know about Google's latest announcement.
Why This Change?
"Google's goal in verifying advertisers' identities is to protect consumers"
– Bill Hauser
What Does the New Policy Include?
Google's new initiative is actually just an extension of an existing verification program. Back in 2018, the company began requiring political advertisers to verify their identities, in order to reduce election interference. The new announcement expands the requirement to all advertisers, though it will take some time for the rollout to be completed.
Currently, many advertisements on Google feature a drop-down "why this ad?" menu, which gives users the power to report ads, opt out of seeing certain ads, or change their ad settings. Under the new policy, the menu will also include information about the advertiser. At a minimum, it will display the name of the business running the ad and their country of operation.
Why Is Google Requiring Verification?
Google's goal in verifying advertisers' identities is to protect consumers. Some advertisers do not operate legitimate businesses and intend to run scams or distribute false information. Although it is not a perfect solution, Google is simply trying to cut down on the number of fake companies and advertisers with malicious intent from reaching their intended targets.
What Does Identity Verification Mean For My Firm?
It's understandable to be worried about the implications of Google's new policy on your marketing strategy. You will have to prove your identity to Google when asked, but it's likely going to be more a small inconvenience than anything else.
Proving your business is legitimate will mean submitting documentation to Google within 30 days of receiving a request to do so. If you don't comply, they will cease running your ads until verification is completed. Otherwise, you can continue to run your ads as normal.
If you work with a marketing or advertising agency, you should discuss the requirements with them. In the future, agencies will need to ensure that each of their clients is verified within Google's ad program in order to run ads on their behalf.
Why This New Policy Is A Good Thing.
The most important benefit is that it will increase trust among consumers. Any leads that come your way will know that your firm is a legitimate business and may feel more comfortable working with you.
Will There Be Any Benefits for Advertisers?
It's easy to look at the change and think about the possible challenges that come along with it. But there are definitely some benefits to verification that you might not have considered.
The most important benefit is that it will increase trust among consumers. Any leads that come your way will know that your firm is a legitimate business and may feel more comfortable working with you.
The other potential benefit is more debatable. Many attorneys are wondering if the requirement will reduce competition for keywords. At this time, it's very difficult to say. It might change competition for some keywords because there will be an additional hurdle for advertisers, but it might not have much of an impact in the legal space overall.
What Will I Need For Verification?
You will need to provide the W-9 you are using for your business (if you have a business account, you should have a W-9 specifically for your business) for verification purposes. The legal name of your business will be listed in the verification information on each ad.
Potentially, the use of your firm's legal name in the listing might create some confusion for leads if you are using a DBA (Doing Business As) name. With that said, there will be an opportunity to list a "nickname," which can be the name you are using in your branding.
In addition to documentation for your business, you will need to submit personal identification to Google, such as a passport or driver's license. The verification process is expected to take an average of 3-5 business days.
Will Verification Become Mandatory?
Because the announcement is still very recent, there's a lot we don't know yet. We do know that Google is prioritizing verification for certain types of businesses, including those in heavily regulated industries, like healthcare. Whether that will include legal businesses is still unclear.
It's still very much a gray area as to whether or not all advertisers will be expected to verify their information. We also don't know which specific types of accounts will be asked to verify first.
When Will The New Policy Roll Out?
According to Google, this process won't be happening overnight. They're starting the verification rollout for businesses in the United States this summer and will expand the initiative from there. You only need to act when verification is directly requested.
All in all, the verification initiative is expected to take a few years for a full rollout. The process cannot be fully automated, as the company needs to have accounts checked manually by an employee.
Your Paid Search Strategy
The good news in all of this is that even if the new Advertiser Identity Verification policy adds an extra step, it shouldn't be much of a concern for most firms. Once you submit your documentation, you'll be good to go. Since Google has just announced this change, we'll have to wait for more information to come down the pipeline but it doesn't seem like verification will change much for small and medium-sized law firms.
At SMB it's our job to keep up with marketing trends and requirements in the legal space. We're experts at helping firms efficiently grow their client base with paid search, SEO, and more. If you'd like to learn more about working with us, sign up for a free consultation for online marketing or give us a call at (844) 406-6136.