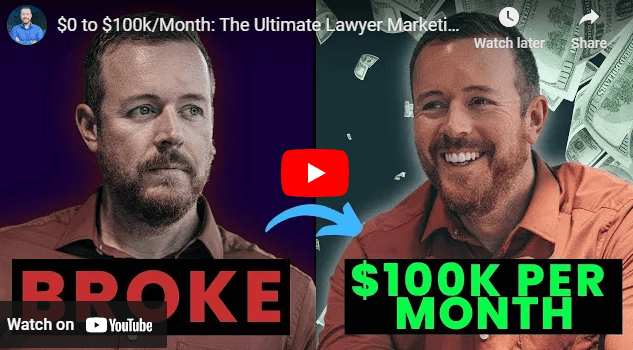 If you're an attorney with a new firm of your own, then you might be feeling more than a little bit overwhelmed by the reality of law firm marketing. It's a big leap to start and promote your own business, but it's also the best way to create your dream job, help your community, and achieve financial freedom. 
That last part might seem out of reach now, but it can become reality faster than you might think–as long as you take the right marketing steps and avoid spinning your wheels. 
After working successfully with hundreds of lawyers to grow their firms through digital marketing, we've learned a lot about what works and what doesn't in the industry. Here's the ultimate lawyer marketing guide you can use to go from making $0 per month to $100k…and beyond. 
First: Set Up Your Intake Process! 
Intake might be the last thing on your mind when planning your law firm marketing strategy, but it needs to be at the very top of your list before you think about anything else.
Why? Because 50% of people will hire the first vendor they call. You literally can't afford to miss phone calls, especially if your firm is new and you aren't getting much referral business yet.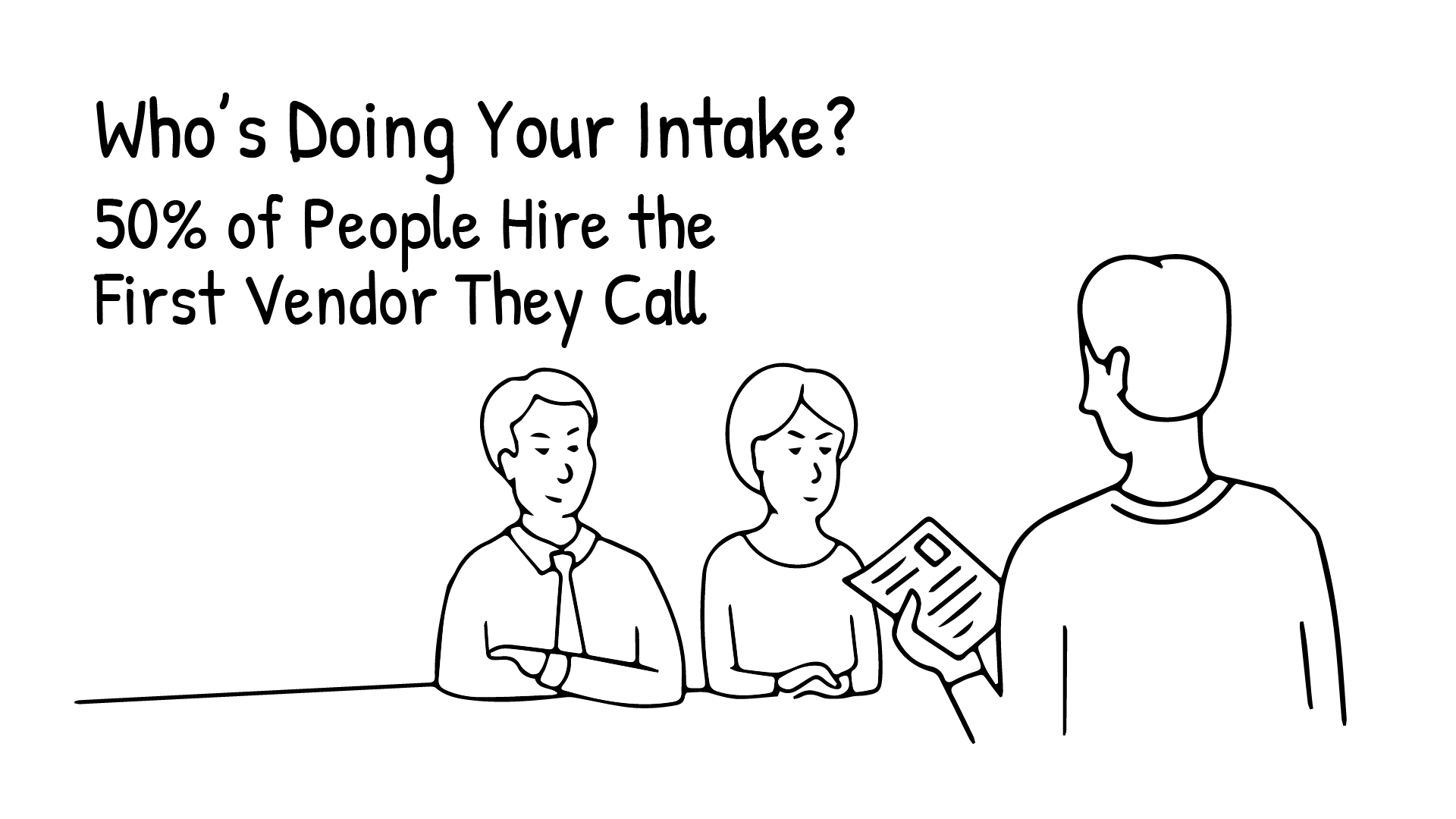 So, who is doing your intake? If you're starting from scratch, the answer is probably you. That means you need to be prepared to take every call yourself, 24 hours a day, 7 days a week, and 365 days a year. 
No, it won't be fun. But until you can afford to hire someone or pay for an answering service, it's what you have to do. Being available at all times is essential to your law firm's success. 
Intake is the heartbeat of your firm. It's how you get cases. Make sure you're ready to pick up the phone and get new cases before you focus on lawyer marketing techniques that will get calls coming in.
Identify Your Audience 
Once you're prepared to take phone calls anytime a lead reaches out, you're ready to plan your law firm marketing strategy. To get started, you have to identify your audience. 
Your marketing "audience" goes beyond your practice area, which is likely to be broad. Estate planning lawyers, for instance, might work with young people who just want to set up a basic will, or they might get older clients who need help managing complex asset portfolios.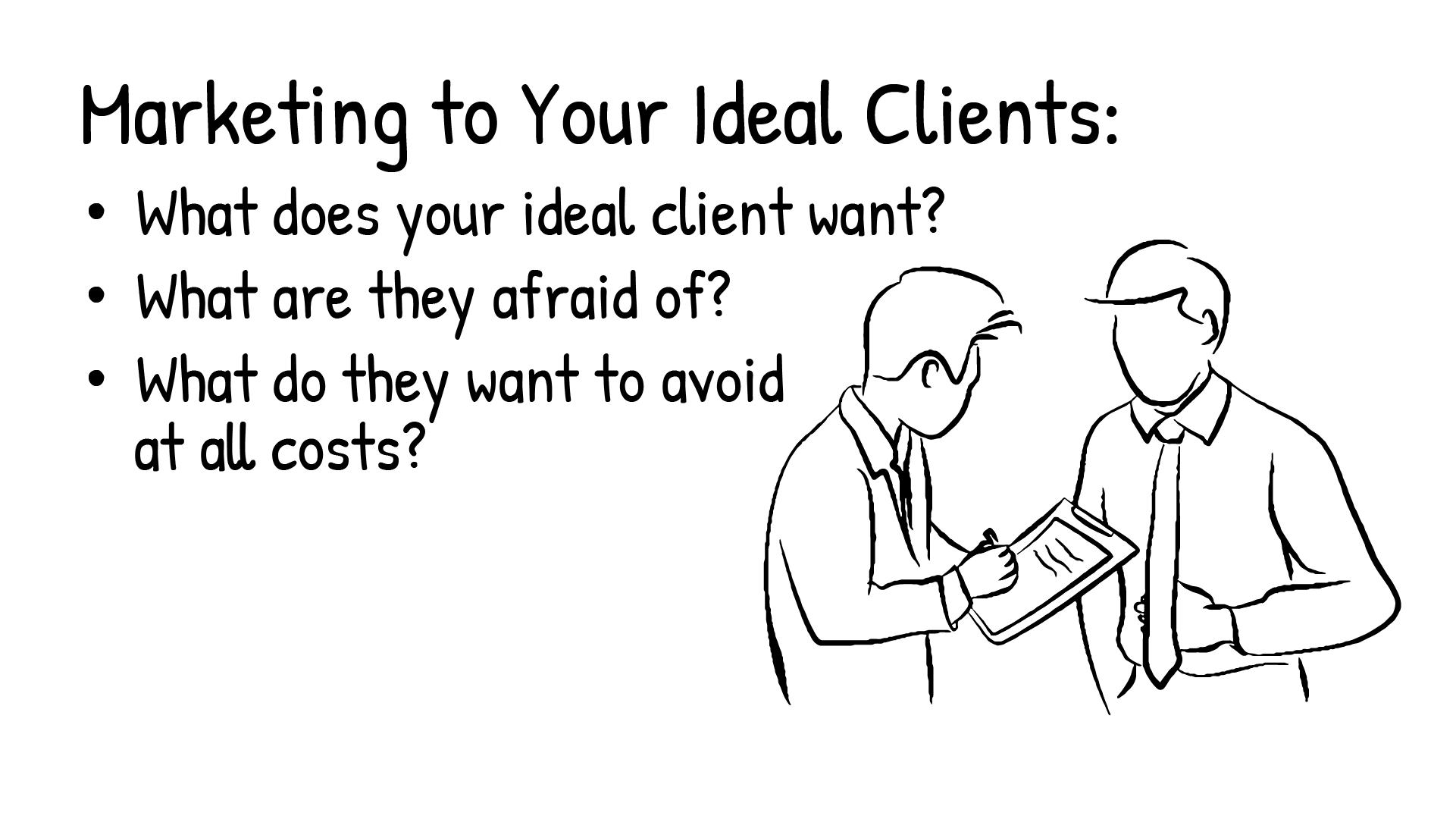 Even if you do serve different types of clients, you don't want to try speaking to all of them at once. Your content should be focused on your ideal client, speaking to their problems, needs, and anxieties. 
Ask yourself a few questions about your ideal client, like: 
What do they want? 

What are they afraid of? 

What do they want to avoid at all costs?
If you can tap into your ideal clients' fears and desires with your marketing, you will get cases. It's that simple. 
You DON'T need to have the greatest content in the world. You DO have to reach the people who need what you're offering. Remember: cases don't hire you. People do!
Create an Amazing Offer 
Take a moment to think about what you currently offer your clients. Is it any different from the other law firm down the road? Probably not. 
The truth is that most lawyers are more or less the same. But, it is possible to stand out for all the right reasons by creating an amazing offer. This technique is so effective that it can actually make other firms irrelevant and will allow you to price your services the way you want, without competing in a race to the bottom.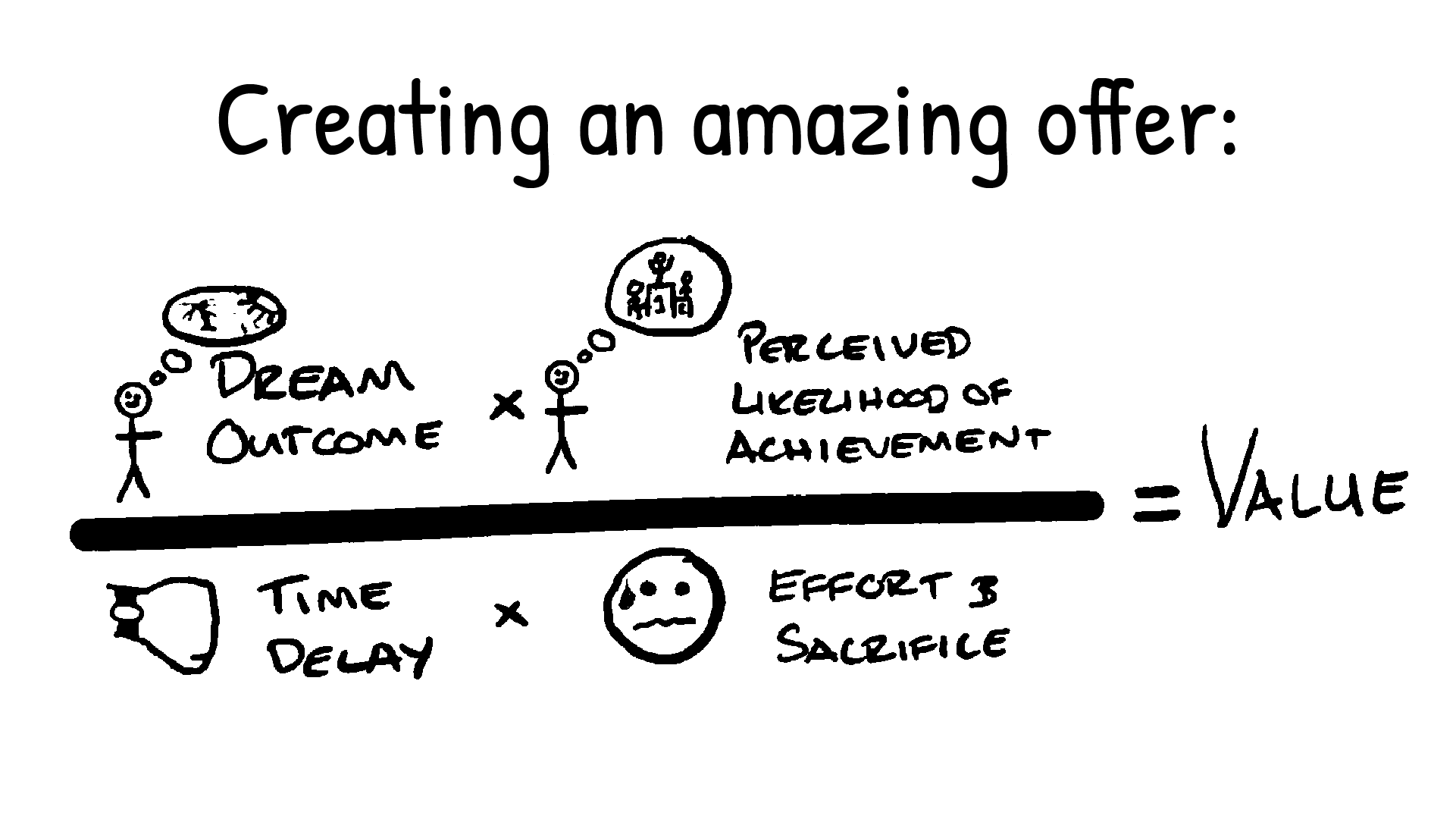 To create a unique and better offer than any other competing firm, you need to understand the four elements that generally go into a person's decision to hire a law firm: 
The dream outcome–what is the result that people want to achieve by working with your firm? 

The perceived likelihood of achievement–how likely are you to deliver their dream outcome? 

Time delay–how long will it take to get the results they want?

Effort and sacrifice–what will it take on their part to achieve their dream outcome? 
Catering to these elements when creating your offer and using different lawyer marketing strategies will help you stop competing with other firms. You'll essentially eliminate the competition with your offer, and you'll be able to ask for any price you want. 
Collect Social Proof 
People often rely on "social proof" from others when making big decisions, like hiring a lawyer. They use online reviews as guidance and ask friends and family for recommendations so they can feel intelligent and comfortable in their choices. 
If your law firm is new, however, you're not likely to have enough online reviews to convince anyone that it's worth giving you a call. It can feel like a catch-22 when you're starting out. You need reviews to get more clients, and you need clients to get reviews.
Actually, you don't.
While real client reviews are ideal, it takes time to build them up. In the meantime, you can have friends and family write "character reviews" on Google to provide much-needed social proof. That can give you a starting point for getting your first cases.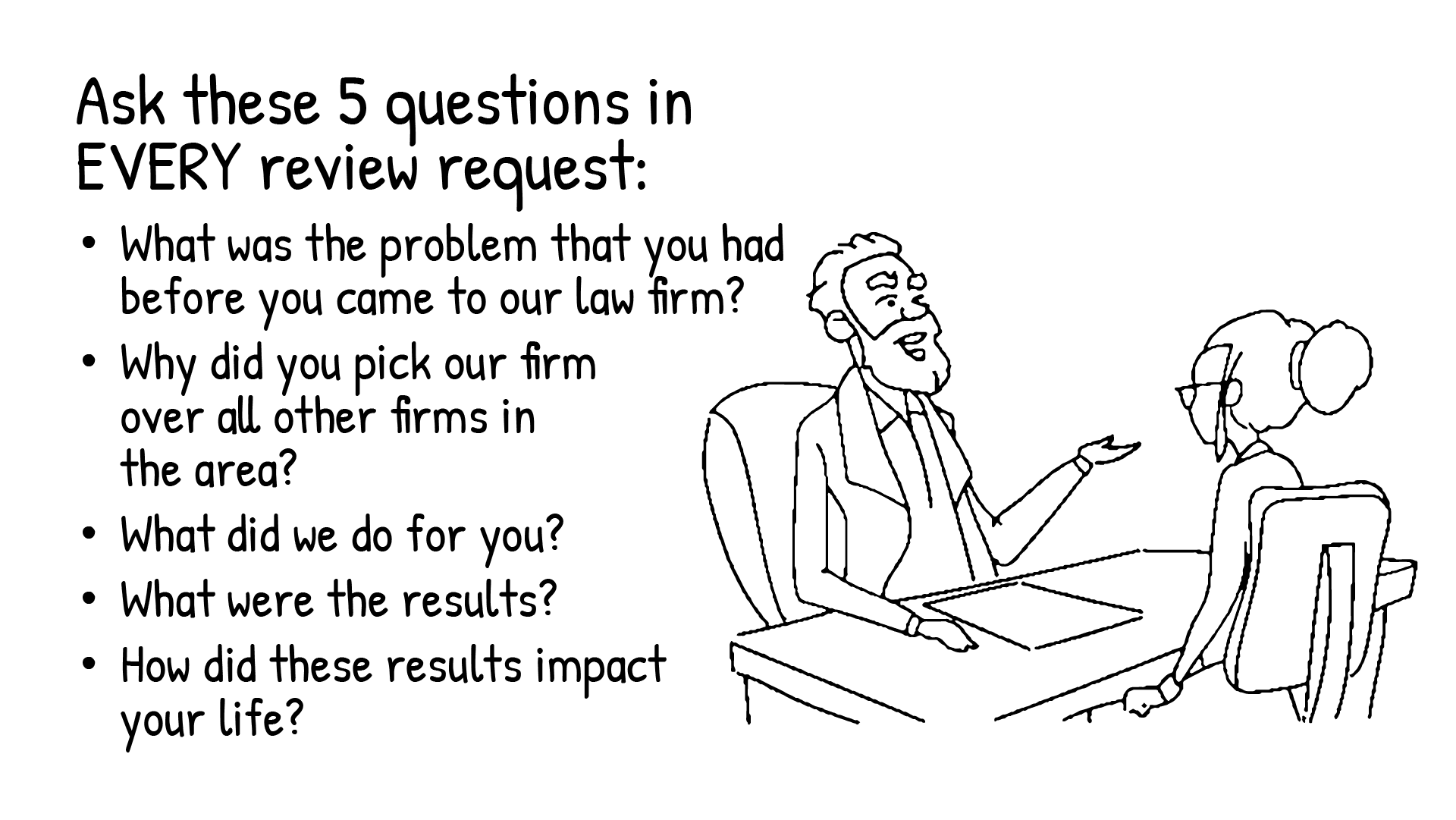 Once new cases start coming in, it's critical to ask clients to leave a review after every successful case. Break down obstacles and make the process easy for them by asking them to answer the following questions in their review: 
What was the problem that you had before you came to our law firm? 

Why did you pick our firm over all other firms in the area? 

What did we do for you? 

What were the results?

How did these results impact your life? 
If your clients use these questions to create their reviews AND you're proactive about asking for reviews and following up, you'll soon have a consistent influx of high-quality reviews that will help your business grow through social proof and SEO (search engine optimization) success. 
Law Firm Marketing: Reactive and Proactive Strategies
There are two types of lawyer marketing strategies that you should use if you want to grow your firm: reactive and proactive marketing.
Reactive Marketing
Reactive marketing is great for new firms. Advertising is a type of reactive marketing–your ads are triggered when someone makes a specific search or visits a related page. This is perfect for lawyers who need to get new cases fast. 
LSAs (local service ads) are a great choice for lawyers who are trying to build their reputations. PPC (pay-per-click) advertising in the legal space can add up quickly. Location-based LSAs, however, are free to run unless a high-quality lead actually calls you.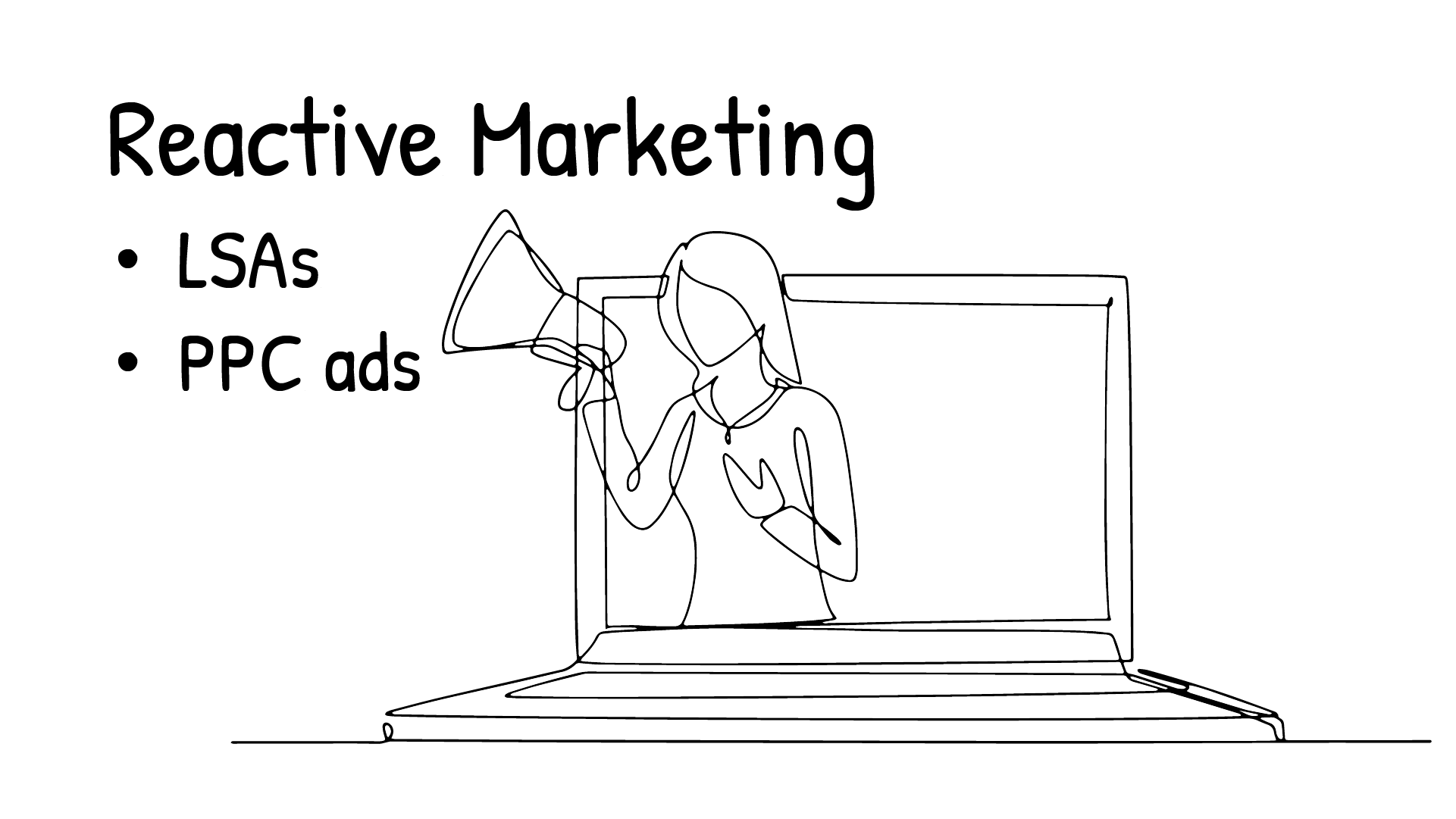 Proactive Marketing
Proactively creating content and getting in front of your ideal clients is a fantastic long-term strategy. It's important to start creating content right away, even knowing that it will take some time to start seeing a return on your time investment. 
Prove that you can help your ideal clients by…actually helping them! Create content that answers their questions. Build goodwill. Start to increase the value of your brand with content.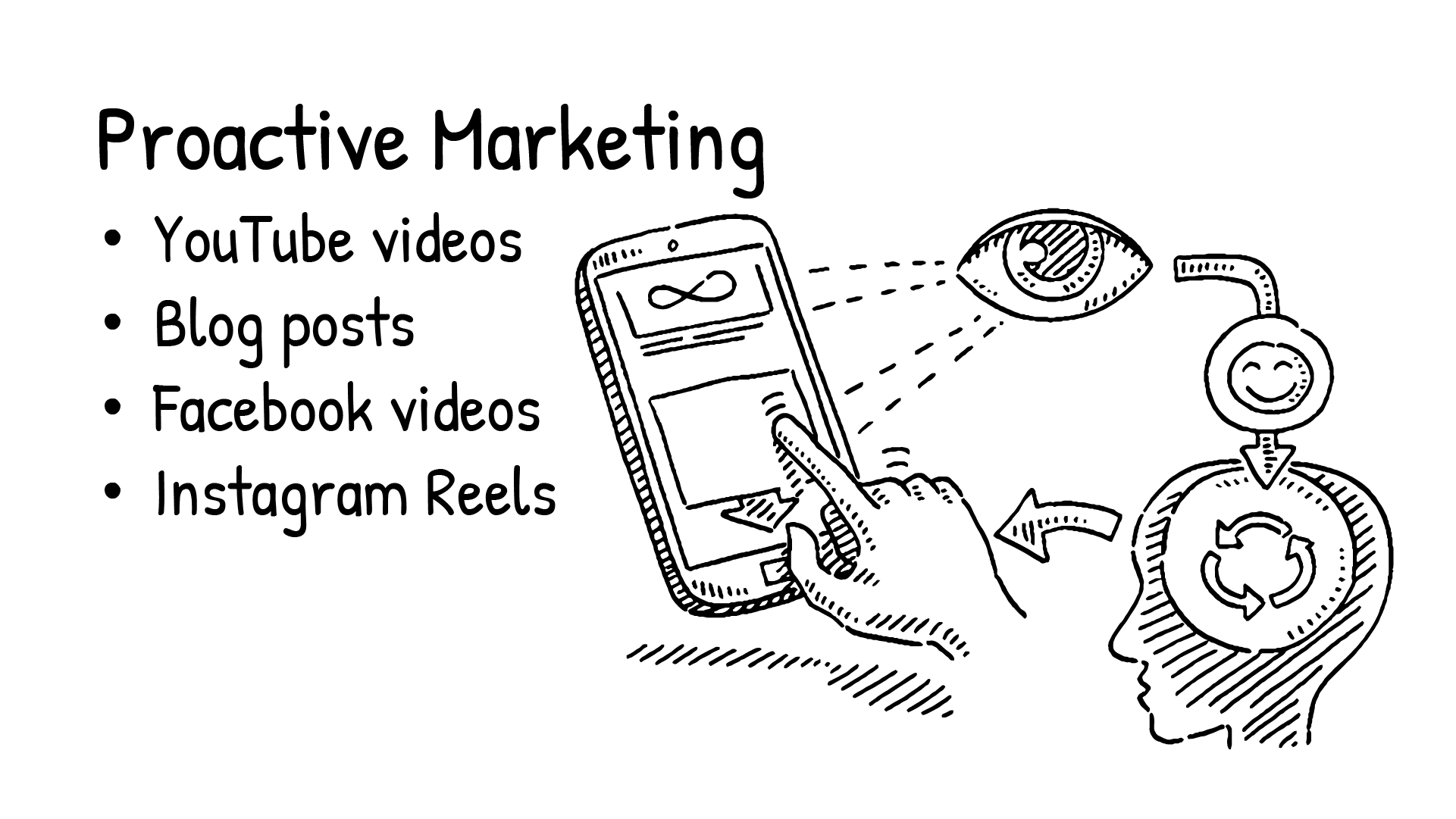 So, what kind of content should you create? Here are two ways to get started: 
Answer every single question your target audience might ask (this is a great way to use AI tools!)

Research what other people are creating and use the most popular videos to find new topics
Proactive content creation doesn't have to be difficult, but it does have to be consistent. If you're consistent with proactive marketing, your law firm will not look the same in a year. Be patient and keep creating high-quality videos, blog posts, and other valuable content! 
Make Your Fortune in Follow-up 
Skimping on follow-up is one of the most expensive mistakes lawyers make. 
Let's look at a tale of two lawyers. Both got 300 leads. One lawyer ended up with zero cases from those leads. The other ended up with 75. What was the difference? 
Followup. 
The lawyer who got 75 cases was diligent in following up. In fact, he used an incredible follow-up system called "3 Times, 3 Ways."
Basically, he would text, call, and email each lead. If they didn't respond the first time (and most didn't), he'd do the same thing the next day, and the next. Consistently following up will get you cases! 
Tips for effective follow-up: 
Put your name in text messages (helps ensure your message gets read!)

Use texts to ask when would be a good time to call…then call if they don't respond

Call and text at different times of the day to cover all schedules

"Double dial" –call a number, and if they don't pick up, call right back (hint, robo-callers don't do this!) 

When you leave a voicemail, tease some value, like "Hi this is attorney x, I was reviewing the info you sent over and I have an idea that I'd love to get your opinion on"  
By the Way…
When someone leaves the office after a consultation without signing on, don't just write them off and move on. Use "by the way" marketing and send them a message saying, "thank you for coming in! By the way…"  
Then, provide them with some value in your message, which might mean personalized advice, a video from your channel, or other resources. It's a great way to combine follow-up with trust-building value, and it costs you nothing. 
Keep On Growing! 
If you use these strategies consistently, you can look forward to a thriving firm that's growing all the time. Getting started with law firm marketing can feel daunting, but it gets easier and more natural the longer you do it. You've already taken a big leap of faith. Now it's time to follow through. 
Need some help with your marketing strategies? Reach out to SMB Team today for a consultation. Don't give up and keep on growing!