Whether you're a personal injury attorney, divorce lawyer, or focus on estate planning – your firm needs to be showing up on Google Maps.
It's a no-nonsense way to ensure that your law firm is showing up when potential clients and leads are searching for a firm that offers services relating to your practice area. Additionally, it allows potential leads to locate you on a map, call you and even visit your website.
Most searchers are visual, and will click on things that pop out to them. Therefore their eye automatically goes to the map section on Google, skimming over the paid and organic search results.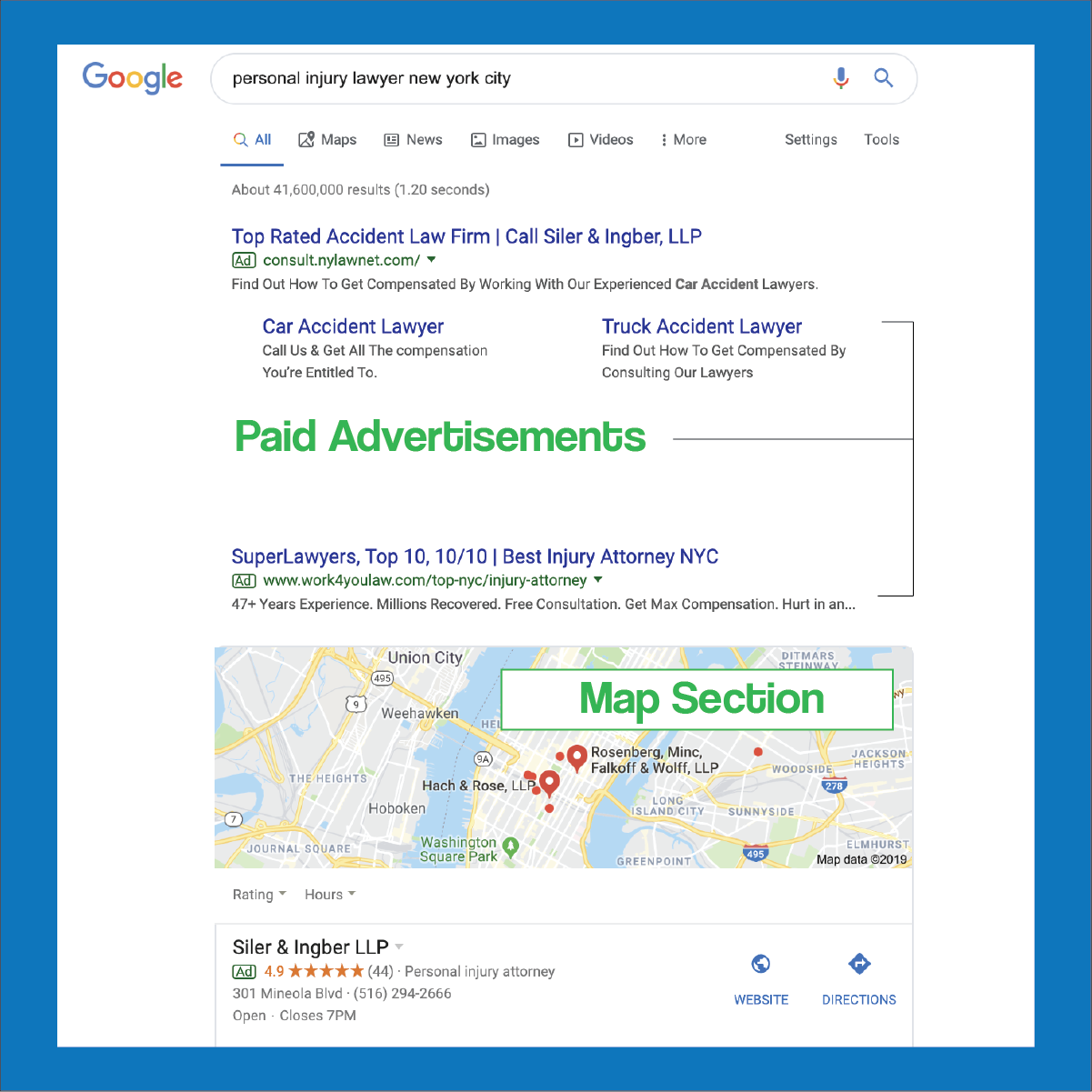 SOURCE: SMB Team
The maps section on Google shows up right underneath the paid advertising results and before the organic search results section.
As you and I both know, ranking within Google's top search results organically is a long-term process.

The answer is probably more times than you are even aware. I know personally, I use the Google Maps section almost daily. Whether it's deciding where to eat for lunch, or where I can get my haircut.
If it don't show up on the map, they don't get a phone call from me.
It's that simple.
Google Maps has made it so easy to quickly find out if a business is in close proximity to you, if they're open, and how you can contact them.
Your clients are thinking the same way too.
Look at this Google Maps listing that I found from a quick Google search for "Personal Injury Lawyer New York City":

It tells me that this firm:
Is a Personal Injury firm
That they are currently open and when they close
Their phone number
A button for their website
Turn-by-turn directions to their office.
If that doesn't make the decision making cycle as to whether or not to call them easy, then I don't know what does.
To learn more about how you can set up your Google Maps so that you can generate more leads through your SEO, then watch this video: